All dogs go to heaven: Fallout 4's Dogmeat has passed away
Bethesda remembers Dogmeat's doggo actor with fond stories and memories after her passing, reveals key development beats.

Published Sun, Jun 27 2021 5:38 PM CDT
|
Updated Sun, Jul 25 2021 4:12 PM CDT
Fallout 4 lead designer Joel Burgess shares a heartwarming story about River, the German Shepard that played and inspired the game's beloved doggo companion.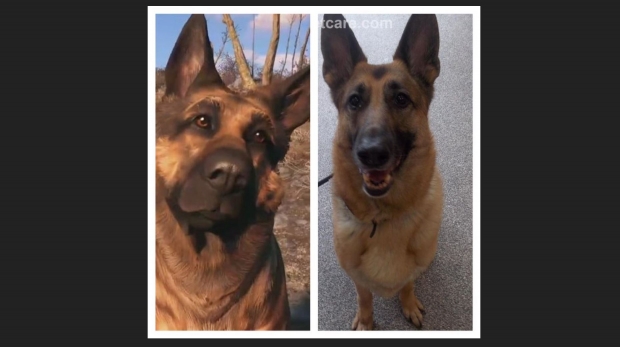 Like most games, Fallout 4 used motion captures of animals for their game, especially for Dogmeat. Sadly, the German Shepard who portrayed Dogmeat has passed away. Her name was River, and in a rare peek behind the curtain of the games industry, Bethesda's Joel Burgess talks about what it was like to have River at the offices, how her lovable personality helped shape Dogmeat's character, and why she was chosen for the role.
"The Dogmeat team was just a handful of us early on - as River stole hearts around the studio, however, more and more folks found ways to pitch in and help bring her personality into the game," Burgess said.
The following was lifted from Burgess' Twitter thread on his time with River and how she ultimately transformed Fallout 4's development.
She was more than a mascot or an inspiration - she was part of the team. This affected *so much* of how Dogmeat comes across in the final game. River was an exceptionally patient & gentle dog. This made her a great collaborator for gathering foley, modeling and animation reference.

She loved being with the team, and they loved her right back. I believe it shows.

One of the earliest impacts River had was on pathing. Jean Simonet and I would take long walks with her, and he noticed that she'd trot ahead, but consistently stop to look back and check in me.

This behavior went into the game, and really connects the dog to you.

River really loved making people happy... sometimes by bringing us large objects. Her intentions were pure, but her judgement wasn't always perfect.

This helped inspire the item-fetching and seeking behaviors,

You see, Dogmeat isn't primarily focused on killing your enemies.

He's *protecting you*, often throwing himself directly in harm's way, giving you the time + opportunity to deal with the threat yourself.

If you've ever had a German Shepherd, you understand.

Dogmeat is a tether. He grounds you in the world, will always stand by you, lead you to your family, and anticipate your needs. He wants you to be safe and happy.

In other words, he loves you.

And if love is River's legacy, I am contented.

Rest in peace, big girl.
Related Tags