Yesterday Asus announced the availability of its new HSDPA Express Card 34, the Asus T500. This caters for owners of recent laptops that are looking for mobile internet connectivity where Wi-Fi isn't available. Not only does the T500 support 3.5G and 3G, but it also does GPRS and EDGE. It works on 850/900/1800 and 1900MHz for GSM and 850/1900 and 2100 for 3G.
The T500 supports download speeds of up to 3.6Mbps and upload speeds of up to 384Kbps. You can also use the T500 for making voice calls via a headset and the supplied software makes it easy to add and edit contacts on the SIM card. On top of this you get easy SMS management via the same application and typing a text message is a lot easier on your notebook that on a phone keypad.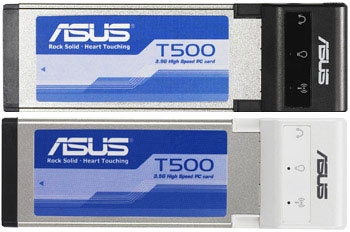 A great feature is that the T500 will try to auto detect your SIM card and if it recognises it, it will automatically set up the software for your network provider. The T500 supports nine different languages and the software will be automatically updated via Asus Live Update.
It's just a shame that Asus is a generation behind, as we're starting to see hardware with 7.2Mbps support appearing, but let's hope that the T500 will arrive at an attractive price point. You can read the official press release
here