The benchmarks Intel doesn't want you to see, 3950X stomps i9-10980XE
Intel may be in some serious trouble as lower core count mainstream CPU's from AMD are showing dominance over their HEDT lineup.

Published Fri, Nov 8 2019 11:57 AM CST
|
Updated Tue, Nov 3 2020 11:46 AM CST
In a recent bout of leaked benchmarks which we reported on both here and here, Intel's upcoming Cascade Lake-X HEDT chip has been shown getting pounded by AMD's Ryzen 3000 mainstream lineup.
The beating continues as new leaked benchmarks have surfaced of the announced but not yet available Ryzen 9 3950X and the soon to release Intel Core i9-10980XE.
Credit to Twitter user @momomo_us for keeping the data coming. The field of battle this time is Geekbench, and unfortunately for Intel, the beatings have continued.
Upfront, we want to say that there is a slight version variation between the runs, with the Intel platform running 4.3.4 and the AMD platform running 4.4.2. With that being considered, we do not believe that there could be such a massive disparity between versions that they could not at least be roughly comparable.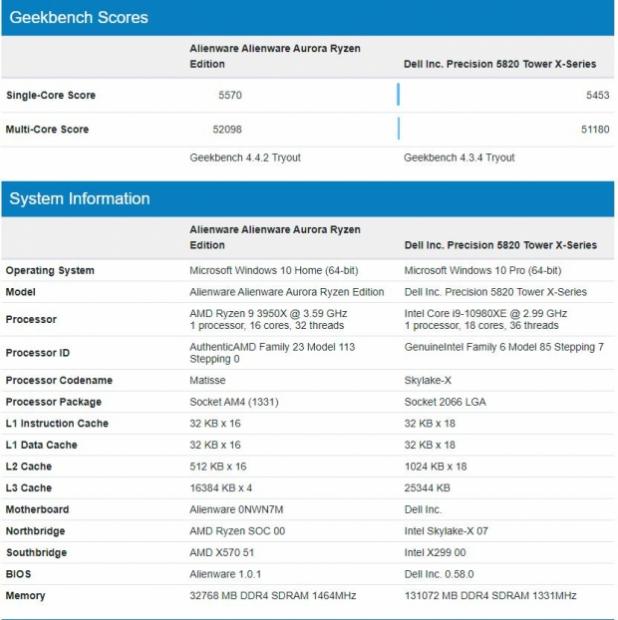 As you can see, the 3950X here, which is sans two cores and four threads vs. the 10980XE, and let us not forget that the Intel platform is running quad-channel memory. The memory on the X299 appears to be 128GB at 2666MHz, while the AMD Ryzen 3950X runs with 32GB at 2933MHz. While the Intel platform is running slightly slower memory, the quad-channel nature of the platform means that there is far more bandwidth available right out of the gate for the Intel unit.
It is also worth noting that these results are both on Dell based systems with the Intel platform being a Precision 5820 tower, which is made for heavy workstation workloads. The Ryzen part is from a claimed Alienware Aurora desktop, which is likely a new top-end gaming desktop from Dell's gaming arm. These could very well be benchmark results run by the dell team to qualify their new platform's performance and positioning.
The multi-core scoring was quite a surprise as the 3950X beats the 10980XE with fewer cores and threads than the Core i9-10980XE. The major surprise I think comes down to the single-core score, which the 3950X also wins with a score of 5570 vs. 5453. This is not representative of all workloads available, but when combined with other performance leaks, the future is looking quite bleak for Intel.
For many of us who have been in this industry and PC enthusiasts, we were around when Intel ran away with the performance crown over ten years ago with Conroe. Now it seems the tables have turned, and we must all ask, is Ryzen AMD's Conroe, and will we see another ten-year lead but by team red, this time with Intel stuck playing catch-up?
AMD Ryzen 7 3800X 8-Core, 16-Thread Unlocked Desktop Processor (Ryzen 7 3800X)
Related Tags