Next World of Warcraft expansion 'Shadowlands' shown in EPIC cinematic
Blizzard Entertainment have revealed the next expansion to come to World of Warcraft, 'Shadowlands'

Published Nov 2, 2019 1:05 AM CDT
|
Updated Tue, Nov 3 2020 11:46 AM CST
BlizzCon 2019 - Blizzard Entertainment have officially confirmed and showcased the next expansion to come to World of Warcraft, introducing World of Warcraft: Shadowlands.
Above we have the official cinematic trailer for Shadowlands where we see Sylvanas go toe-to-toe with the legendary Lich King. Sylvanas narrates the trailer as she explains that she believes the Lich King is a "usurper", saying "No king rules forever."
In the cinematic we see Sylvanas attack the Lich King and his army, using her arrows and quick moves Sylvanas seems to make quick work of the King. Before his demise, the Lich King warns Sylvanas "that power will be your prison", she replies after a brief pause, saying "This world is a prison. And I will set us all free." She then breaks the Lich King helmet in two opening a portal to the afterlife above Icecrown Citadel. World of Warcraft: Shadowlands will release sometime next year.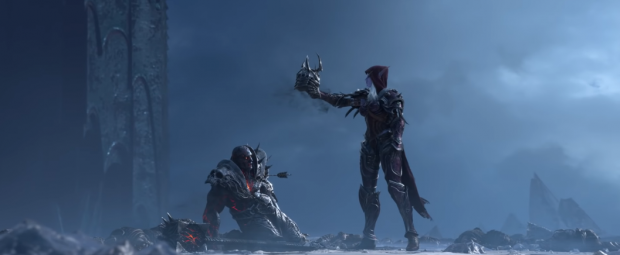 Related Tags