Google makes some bold promises about Stadia, assuring the service will stream all launch games at up to 4K 60FPS.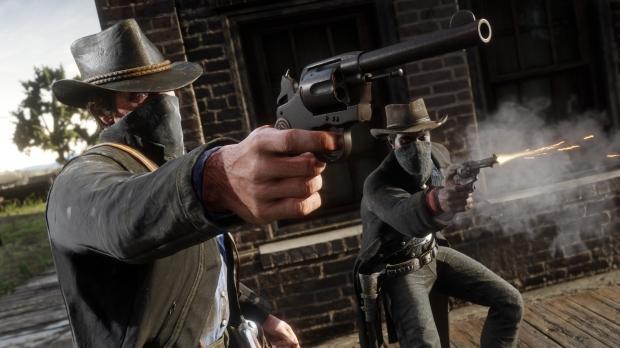 Red Dead Redemption 2 is coming to PC on November 5, and to Google's new game-streaming Stadia platform as a launch game. But what kind of performance will it hit? Playing any game at 4K 60FPS requires some serious CPU and GPU horsepower, often needing an NVIDIA GeForce GTX 2080 Ti.
According to Google exec Phil Harrison, all Stadia launch games will run at 4K 60FPS (providing your internet is up to par). And since Red Dead Redemption 2 is a launch game, Rockstar's Wild West magnum opus could likewise hit this spec.
The real question is what version of RDR2 will Stadia use? The console version or the PC version? If it's the former, the game will be locked at 4K 30FPS, and PC can hit uncapped frame rates at up to 8K resolution.
Remember Cyberpunk 2077 is also coming to Stadia in 2020, and could likewise hit different varying spec performances.
Considering the games will be sold at $59.99 on Stadia, I'm hoping they're the PC versions.
The following launch games were confirmed on Stadia, and all of them will be sold separately at full price on the platform:
Stadia Launch Games
Cyberpunk 2077

Red Dead Redemption 2

Baldur's Gate 3

Borderlands 3

Ghost Recon: Breakpoint

Gylt

Get Packed

The Division 2

The Crew 2

GRID

FM

Power Rangers: Battle for the Grid

Mortal Kombat 11

Farming Simulator 19

The Elder Scrolls Online

Darksiders: Genesis

Trials Rising

Wolfenstein: The New Order

Just Dance

Thumper

Shadow of the Tomb Raider

Dragonball Xenoverse 2

Final Fantasy XV

RAGE 2

Samurai Showdown

Metro Exodus

Assassin's Creed: Odyssey
Stadia Pro: $10 a month
Three months included in Founder's Edition.

Part of Founder's Edition

Resolution: Up to 4K

Frame rate: 60 FPS

Sound: 5.1 surround sound

Buy games whenever you want: Yes

Additional free games released regularly: Yes, starting with Destiny 2: The Collection

Stadia Pro-exclusive discounts on select game purchases: Yes

$9.99 / mo
Stadia Base: FREE
Coming next year

Resolution: Up to 1080p

Frame rate: 60 FPS

Sound: Stereo

Buy games whenever you want: Yes

Additional free games released regularly: No

Stadia Pro-exclusive discounts on select game purchases: No

Free
Stadia Founder's Edition $129
First access to Stadia

Chromecast Ultra

Limited Edition Stadia controller

3 months of Stadia Pro access + 3 months of friend access

Full Destiny 2 experience