MSI leaks its Threadripper 3000 motherboard, the 'Creator TRX40'
MSI has started placing references to its new Threadripper 3000 series supported motherboard on its webpage.

Published Tue, Oct 8 2019 4:15 PM CDT
|
Updated Tue, Nov 3 2020 11:46 AM CST
The internet has been ablaze with the recent update from AMD in regards to both the 3950X and the upcoming third-gen Threadripper, or Threadripper 3000. We know that the top end AM4 CPU consisting of 16 cores and 32 threads, along with the HEDT platform of Ryzen 3000 Threadripper reaching an unknown, but potentially 64 cores on a single package will see the official light of day coming in November which is a mere month away.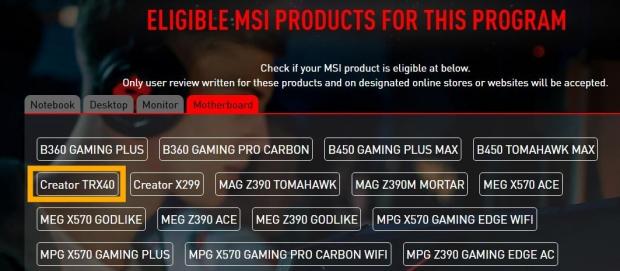 The eagle-eyed among enthusiasts such as the team from Videocardz noticed an update from MSI on their promotional review program page. It has been recently updated to list a new model in the register for eligible products for the promotion, the Creator TRX40.
One takeaway from this listing is that the "Creation" moniker which was applied to Z390, X570, X399, and X299 seems to be going away. It looks like the "Creation" label will be pitched aside as the new Creator X299 and TRX40 show that they may be trying to clear up the marketing and targeting message to ensure users understand these boards are made for content creators.
The Threadripper being split up into workstation and enthusiasts level parts much as they did in second-gen is welcomes but now its a bit more clearly defined. From rumors so far, it looks like AMD is tentatively (as rumors go) going to be labeled TRX80 for Threadripper enthusiasts parts while WRX80 will be the HCC parts made for workstation usage. The reason I assume AMD would make this designation is to more clearly define the usage models for the CPUs. Workstation usage normally applies to CAD/CAM etc., where the applications can leverage very high core count parts, while gaming can in many cases benefit from higher frequencies and lower core counts to avoid game engine issues when it sees too many threads which can cause the game to act abnormally or even fail to run at all.
Whatever comes of this, I am excited to see more information start to show up and we are excited to get some new Threadripper CPUs in house to see just how they stack up and do they further disrupt the ecosystem as a whole. Let us know your thoughts on the upcoming Threadripper and 16 core 3950X. Do you plan to buy one? what usage model would you be using it for?
Related Tags