Logitech's new mechanical keyboard is modular, lets you swap switches
Logitech G's new Pro X mechanical keyboard transforms switches on-the-fly.
Published
2 minutes & 3 seconds read time
Logitech today revealed an interesting new mechanical keyboard with swappable keyswitches.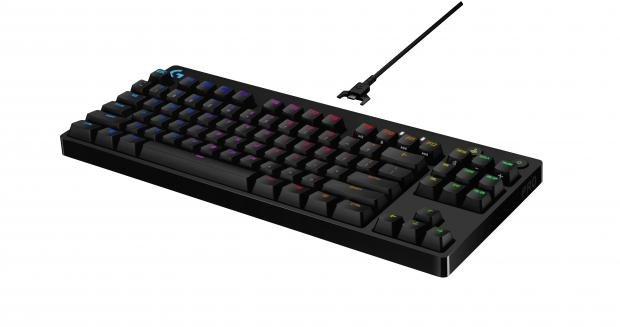 The new Logitech G Pro X one-ups the original Logitech G Pro keyboard in a big way: it lets users swap between red, blue, or brown mechanical key switches on-the-fly. Users can literally pull out the entire key-and-switch combo from the board.
The Pro X uses Logitech G's proprietary GX switches that come in three flavors: Clicky (blue) for a more audible and punchy press, Tactile (brown) for a more soft bump, or Linear (red) for smooth keystrokes.
The Logitech G Pro X costs $149.99 and comes outfitted with your choice of starter switches. Extra switches come in a $50 kit and include 92 switches so you'll have some to spare. It'll be available sometime this month.
With this particular model, Logitech has basically made rebuying mechanical keyboards a thing of the past--instead of buying the entire thing, you'll just pick up some more switches.
Aimed at pro and enthusiast gamers, the Pro X sports a compact tenkeyless design with full RGB flair, complete with 12 reprogramable F-key macros.
"Gamers, especially pros, have different preferences when it comes to keyboard switches," said Ujesh Desai, vice president and general manager, Logitech Gaming.
"That's why we wanted to design and build a new PRO keyboard that featured swappable switches. By giving gamers the ability to choose the right switch to match their style of play, we've delivered a new level of performance that is optimized for each individual's unique needs."
Check below for full specifications of the Logitech G Pro X mechanical keyboard:
USER-SWAPPABLE MECHANICAL SWITCHES
1.8 m(5.9 FT) DETACHABLE CABLE
1 ms REPORT RATE
PHYSICAL SPECIFICATIONS
Height: 34 mm (1.3 in)
Width: 361 mm (14.2 in)
Depth: 153 mm (6.02 in)
GX BLUE CLICKY SWITCHES
Actuation distance: 2.0 mm (0.1 in)
Actuation force: 50 g (1.8 oz)
Total travel distance: 3.7 mm (0.14 in)
GX BROWN TACTILE SWITCHES
Actuation distance: 2.0 mm (0.1 in)
Actuation force: 50 g (1.8 oz)
Total travel distance: 3.7 mm (0.15 in)
GX RED LINEAR SWITCHES
Actuation distance: 1.9 mm (0.1 in)
Actuation force: 50 g (1.8 oz)
Total travel distance: 4.0 mm (0.6 in)
OTHER FEATURES
Pro-inspired tenkeyless design
User-swappable mechanical switches
LIGHTSYNC RGB lighting 3Advanced features require Logitech G HUB Gaming Software, available for download at logitechg.com/GHUB
Onboard lighting profile 4Advanced features require Logitech G HUB Gaming Software, available for download at logitechg.com/GHUB
1.8 m (5.9 ft) detachable cable
12 programmable F-keys
1 ms report rate
REQUIREMENTS
USB port
Windows 7 or later, macOS 10.11 or later
Internet access for Logitech G HUB Software5Advanced features require Logitech G HUB Gaming Software, available for download at logitechg.com/GHUB
PART NUMBER
Black Tactile : 920-009230
Black Linear : 920-009231
Black Clicky : 920-009229
WARRANTY INFORMATION
AMR 2 years
EMEA 2 years
CN 2 years
Related Tags