UPDATE: Disney confirmed the news with a new trailer, and the dual-pack will include save states, upscaled (but not remastered) graphics, full versions of every game on every released platform, and will release on October 29 for $30.
Authentic Game Content with Modern Improvements - Fans old and new can enjoy the original game builds, upscaled graphics, customizable controls, special filters for visual enhancement and more.
● Variety of Game Versions - The collection includes multiple playable platform versions of the games including their Sega Genesis, Game Boy and Super Game Boy releases, as well as The Lion King Super Nintendo Entertainment System version.
● A Helping Hand - Players who want to experience the Disney magic in true "Hakuna Matata" fashion can use the Interactive Game Viewer, Rewind feature and cheat codes to aid gameplay progression.
● Curated, Explorable Museum - A treasure trove of behind-the-scenes development assets including interviews, an art gallery and a music player shares the rich history behind the Aladdin and The Lion King 16-bit games.
Re-releases of old-school classics Aladdin and The Lion King are coming to PS4, Xbox One, and Nintendo Switch this Fall, Disney announced during a closed-doors Gamestop event.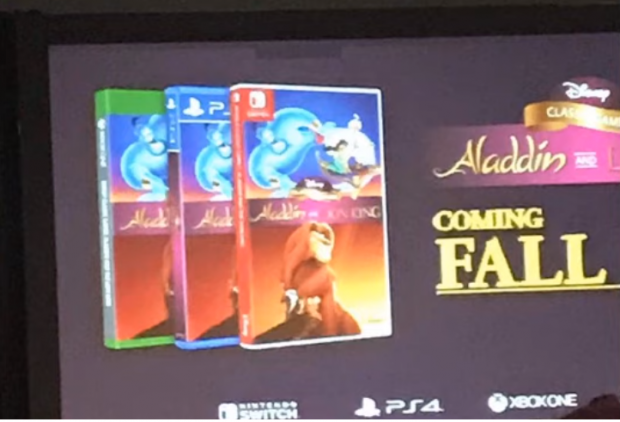 As a kid I grew up playing Aladdin on the SEGA Genesis--needless to say my childhood was pretty awesome. The game is as charming today as it was back then, complete with 16-bit visuals, a rocking soundtrack, and surprisingly fun gameplay. Now Disney aims to recapture that nostalgic magic by re-releasing two classic games that both had theatrical remakes in 2019: Aladdin and The Lion King.
Reports say the games will be HD remasters of their original versions, and both titles will be included in the same box. Luckily the beloved retro versions will be included on-disc so you can relive those memories. The dual-pack is slated to release sometime this Fall (insiders say October) and it will apparently be up for pre-order tomorrow.
Pricing has yet to be announced--the game itself has yet to be announced officially--but if I had to guess I'd say it'll be $20-30, not $59.99.