Need for Speed Heat has convenience microtransactions
Surprise! Yet another EA game is an open-world grind with 'time saving' purchases.
Published Aug 15, 2019 3:16 PM CDT
|
Updated Tue, Nov 3 2020 11:47 AM CST
3 minutes & 51 seconds read time
Like all EA games, the new racing fantasy Need for Speed Heat will have microtransactions. There's no lootboxes this time around but gamers can buy time-savers to unlock collectibles faster.
The Miami-based Need For Speed Heat looks damn good, but there's something hiding under the hood: EA's penchant for monetization (they earned over $500 million from live services last quarter). Not only will the game be open-world with tons of stuff to unlock and find, but it has lots of customization options for building dream cars. Both of these are prime territory for microtransactions, both cosmetic or lootboxes. The only thing's missing is online play and integrated social connectivity, aka the glue of engagement. Expect those to be in too.
Now Ghost Games confirms Need For Speed Heat will indeed be monetized, but only with a one-time convenience pack that shows all collectibles on the map. There won't be any surprise mechanics or cosmetic purchases, and Speed Cards from Need For Speed Payback are gone. Macro-monetization will consist of buying car packs, the devs say.
"We plan to have post launch paid-DLC in the form of car packs. Later this year we'll introduce a time-save pack, which will show all collectibles on the map. That's it," a Ghost Games dev said on Reddit.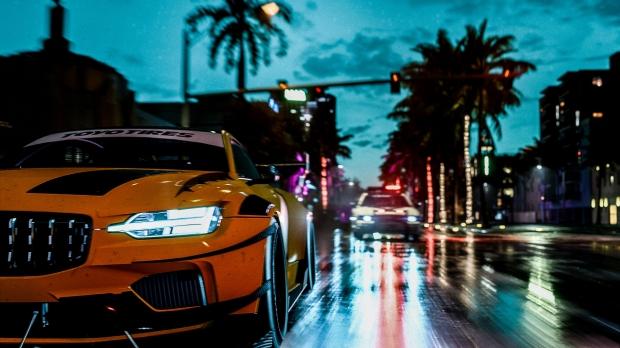 Even still, we could see cosmetic mTX roll out post-launch if NFS: Heat doesn't perform as well as EA had hoped. Publishers often have fall-back or contingency plans centered around re-engaging lower playerbases (new content drops, updates, etc) or and re-monetizing (adding new mTX methods to "fund" these new updates) when games don't hit their strides. We've seen Fallout 76 get non-cosmetic mTX, for example.
Here's some clues around the game's cosmetic focus, but also a confirmation that specific mechanics have been scrapped.
"It wouldn't be NFS without customisation and you'll be taking your car to new levels of personalization. We'll be giving more details on this at gamescom next week, so no spoilers just yet.
"What we can confirm is that customisation options are earned through the completion of in-game events. For example, you spot a street race on your map and notice it has a new performance part up for grabs. Win the race, win the part. Speed cards from NFS Payback are gone."
Need for Speed Heat is due out November 8, 2019 and should be a nice driver for EA's $4.1 billion in digital earnings forecast.
It may not feature microtransactions at launch so EA can circumvent the "in-game purchases" label from the ESRB. It's a new trick publishers are doing to avoid having their retail games marked with the microtransaction advisory label.
Check below for more info direct from Ghost Games:
Ghost Games, an Electronic Arts Inc. (NASDAQ: EA) studio, today announced Need for Speed Heat, the ultimate street racer versus cop fantasy. The game deepens and expands everything Need for Speed fans love - expressive customization, authentic urban car culture, and an immersive narrative that pulls you into the game.

Need for Speed Heat sends fans to Palm City, a brand-new open world where street racers have gathered to make their names known. By day, players compete in the Speedhunters Showdown, a sanctioned competition where they earn Bank to customize and upgrade their garage of high-performance cars. At night, players risk it all to build their Rep in underground races where a rogue police task force roams the streets, ready to take racers down and swipe all their earnings. The roads, the risks, and the rides never end in this street racer where a player can roll deep with their crew, build their garage full of hot cars, and make the city their nonstop playground.

"We're delivering more options than ever before for players to be unique and make themselves known," said Riley Cooper, Creative Director at Ghost Games. "Our fans have been clear that they want more cars, more customization, and more challenges, and we're tuning up on every aspect. From your character's style to your car's performance and your driving style, we're fueling everyone's creativity with this new game."

Fans who pre-order the standard edition will get a K.S Edition styled Mitsubishi Evolution X. Pre-ordering the Deluxe Edition adds three K.S Edition styled cars (BMW i8 Coupe, Mercedes C63 AMG Coupe, Chevrolet Corvette Grand Sport), access to exclusive deluxe edition character clothing, and increased earnings of in-game currencies Bank and Rep. Anyone who pre-orders Need for Speed Heat in-game from Need for Speed Payback on any format will also get a 10% discount as a Loyalty Reward1.*

Need for Speed Heat launches November 8, 2019 for Xbox One, PlayStation® 4, and PC. Jump into the game first on November 5, 2019 with EA Access and Origin™ Access Basic to enjoy up to 10 hours of play time as part of the Play First Trial, or sign-up for Origin Access Premier to get full access on PC.**
Related Tags