No Man's Sky will soon let you tame--and milk--alien creatures for resources. Yes, really.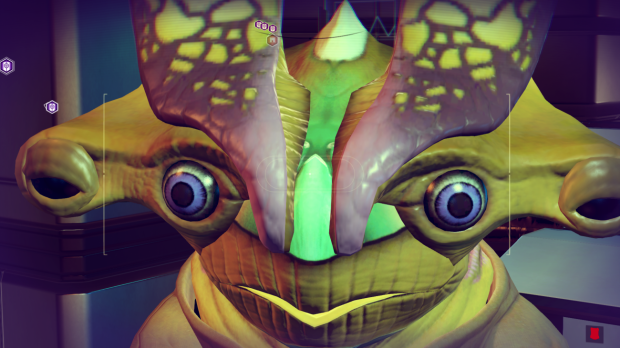 No Man's Sky Beyond is the seventh and biggest update in the game's history. It's a huge undertaking that adds full VR support on consoles and PC, a new social online infrastructure for multiplayer action, and a bunch of crafting content. And it also lets you milk aliens that you capture and tame. I mean...No Man's Sky was always weird, but this is pretty bizarre even for the space sim.
In a recent interview with IGN, Hello Games' Sean Murray detailed what Beyond has in store, confirming the game is taking on a more interstellar Stardew Valley- and Minecraft-like approach. Not only can we milk aliens, but we can farm them in makeshift hatcheries at our bases. That goes alongside farming plants and resources, too.
"Now you'll be able to farm animals. You'll be able to build milking machines and tame and milk creatures, you can do creature riding," Murray said.
Beyond adds a new social space called the Nexus where gamers can meet up and party to explore, build, and farm. It's kind of like The Tower from Destiny, and everyone shows up with their own custom modified armors, gear, and ship additions for maximum flair.
Bases are also getting a huge upgrade and remind me of Fallout 4's massive settlement system, complete with electricity, computers, and nifty custom additions.
"You can make much more expanded bases, much more than you've ever been able to before. Bases that have much more creativity. You can have electricity in them, you can have logics so you can build little mini computers or your own mad little version or Rocket League," Murray said in the interview.
Your creations can also be shared across players and will even be highlighted by Hello Games, sort of like the old-school Bungie Favorites list from yesteryear Halo games.
"You can play in all of these things in multiplayer, and because we've expanded base-building, an actually really cool thing from the social space, you can share those things to the Nexus. And we'll feature certain bases and stuff, so people can go to the Nexus and see not just your ship, your loadout, and how you look, but also see the base you built."
No Man's Sky Beyond drops on August 14, 2019 as a free update on PS4, Xbox One and PC. It'll support all major VR headsets at launch too.