PS4 breaks 100 million shipments ahead of PS5 release
PS4 has now shipped 100 million units, but Sony expects gamers to wait on the PS5.

Published Tue, Jul 30 2019 6:16 PM CDT
|
Updated Tue, Nov 3 2020 11:47 AM CST
Sony today confirmed its PlayStation 4 system has sold-in 100 million units in the six-year period since launch.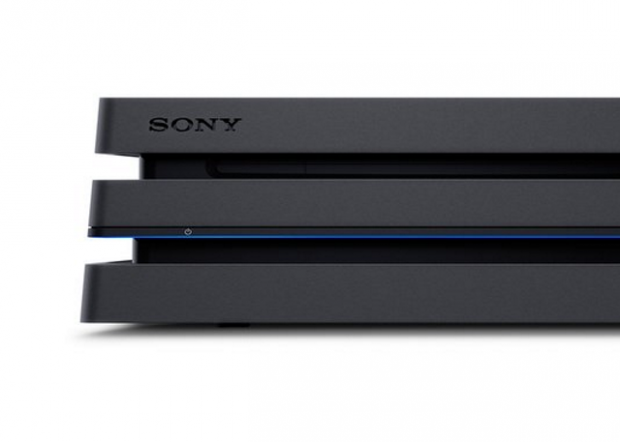 Sony's recent Fiscal Year Q1'19 financials show a subtle decline in the PS4's overall potency. The system, which has now sold-in (shipped, not sold-through to consumers) exactly 100 million units across the globe, still tops the charts but will soon be overshadowed by its mighty PS5 next-gen successor. Sony's figures reflect the company's decision to start ramping down the PS4's lifecycle so it can live on through the next console.
In the three-month period ending June 30, Sony sold 3.2 million PS4s, roughly even with last year. News of the upcoming PS5 has deterred gamers from buying PS4 hardware, Sony says, so the plan is to double-down on services, digital subscriptions and game sales. Sony also knocked 1 million PS4s from its sales projections, and now expects to sell 15 million consoles in FY2019, the lowest in a four-year period.
Sony says it'll support the PS4 well into the PS5's life cycle and all existing PS4 games, peripherals, and accessories will be cross-compatible.
The raw numbers also show a downward trend for PS4 hardware as it enters its sixth year.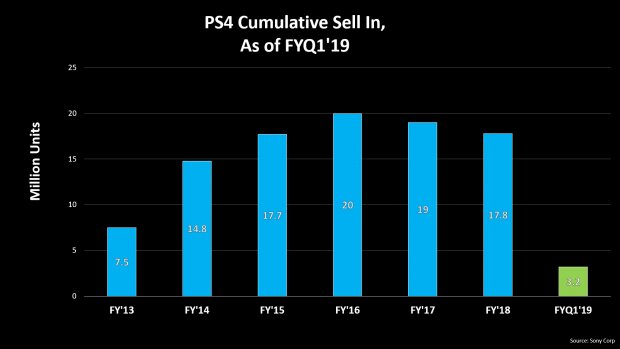 Digital games and DLC, microtransactions, and subscriptions eclipsed hardware by 73 billion yen in Q1'19, pulling in 215,964 billion yen ($2 billion) or roughly half of total games segment earnings.
Conversely, PS4 sales hardware made 142,180 billion yen ($1.31 billion) in the period, or just 32% of total Games and Network Services segment earnings.
The segment also saw a slight drop in earnings year-over-year, too. Total segment sales dropped 3% to 457.5 billion yen ($4.25 billion) and operating income dropped by $89 million to 73.8 billion yen ($684.91 million) thanks to the lack of first-party games like God of War in the same year-ago period. As a result of hardware sales trends and expected earnings, Sony dropped its total FY2019 games guidance by 100 billion yen to 2.20 trillion yen.
"The goals for the [Games and Network Services segment] this fiscal year are preparing for the launch of the next generation platform as well as maintaining and expanding the community we have built among users. As of the first quarter, we are on track to achieve these goals," Sony said in the presentation.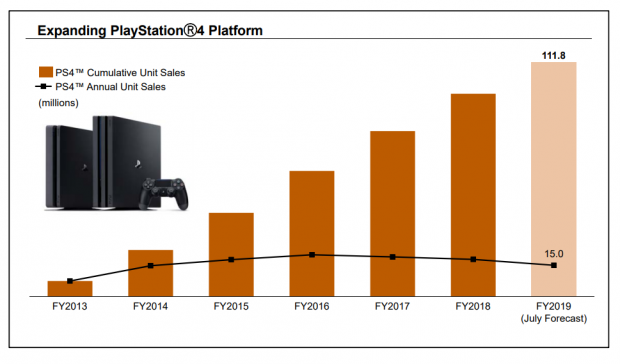 Related Tags