QuakeCon 2019 will showcase custom Doom Eternal PC builds
QuakeCon 2019 brings hell on Earth with devilish Doom Eternal PC builds.
Published
1 minute & 39 seconds read time
QuakeCon is famous for its stylish modding PCs, and this year's show will focus on Doom Eternal.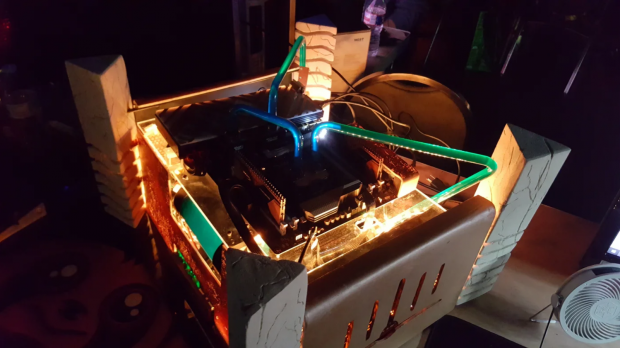 (Photo: IGN)
Every year thousands of dedicated fans come together to celebrate the demon-slayer that ignited the FPS revolution, complete with insane customized builds. The show is a chance to highlight some of the craziest modded cases in gaming with a set theme (usually hell-on-Earth Doom action or the medieval brutality of Quake). QuakeCon 2019 will be no different.
At IEM Chicago 2019 I was told that some vendors would have some mind-blowing builds at QuakeCon 2019 to sit alongside the player-created mods. The plan is to hype up Doom Eternal's impending release with iconic and memorable setups, which should include lots of blood, carnage, volcanic hellish lighting, and maybe even with Doom Slayer's fancy new battle-axe, claymore, or hook.
The custom PC gurus at Origin PC (who just combined a PS4 Pro, Xbox One, Switch and a PC in the same case) may even bring something special to the event, event coordinator Bryan Ore said.
QuakeCon 2019 kicks off on this Friday, July 26 with a special keynote at 12pm EST.
QuakeCon 2019 schedule:
- Keynote: It's not a QuakeCon without the Keynote, and this year's welcome message will focus heavily on the upcoming DOOM Eternal. Don't miss the demon-slaying action when the Keynote kicks off at 11:00am CT on Friday, July 26.
- Panel: The Influence of DOOM: Immediately following the keynote, an all-star lineup of Bethesda developers from MachineGames, Bethesda Game Studios, and id Software will discuss the impact of DOOM's release 25 years ago on games and the video game industry.
- Panels for Fallout 76, DOOM Eternal, and The Elder Scrolls Online: On Saturday, development leads from Bethesda Game Studios, id Software, and Zenimax Online Studios will each take to the stage to discuss Fallout 76, DOOM Eternal, and The Elder Scrolls Online.
· 10:00am CT Sat: Fallout 76
· 11:00am CT Sat: First live gameplay of DOOM Eternal
· 2:00pm CT Sat: The Elder Scrolls Online
Related Tags