Doom: Eternal was created to keep you entertained all the way through. From the first level to the endgame where you slay interstellar archangels from another dimension, id wants you to be engaged--but not in the online multiplayer sense.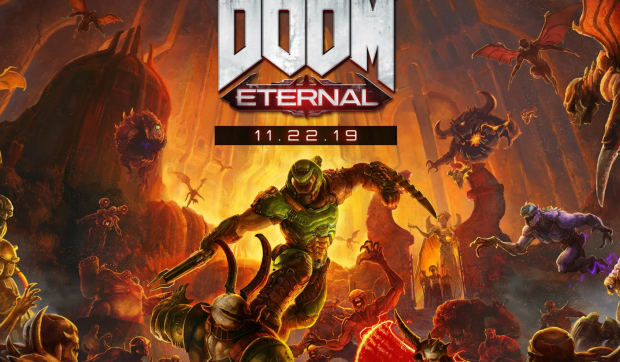 id isn't creating an immersive, cinematic experience with Doom Eternal. It's not meant to be some grand sprawling affair into a dramatic, narrative story arc. As id says, it's a video game with a capital V, soaked in blood and violence. The next Doom puts fun and gameplay over immersion and it's all the better for it: it looks like a video game, walks like a video game, and talks like a video game, complete with insane action and thrilling chaos. All of these things are wrapped up in one focus: to keep you engaged in a singleplayer world that's there for your amusement.
"Engagement is a key word for us. No matter what you're doing, we really do try to make everything worth your time. The whole game is about being worth your money, worth your time, and worth your thought and your engagement," said executive producer Marty Stratton.
"The game is about learning the tools, execution against demons, and understanding the metas. It's really about controlling the fight and being aggressive. It's challenging and people die a lot, but we always say 'death is the best way to learn'. I don't think we've punished people and our load times are really fast," Stratton continued.
"Engagement really was our biggest word around development and still is," creative director Hugo Martin said in a recent Giant Bomb interview.
"Just how do we engage the player. We want you thinking...if last time it was combat chess, it's speed chess now, requiring the player to think on their feet and as a result I think the messaging of the game has had to get a bit bolder because you're moving so fast as you do things. So you'll notice that the items stand out because we want to make sure the player is not going to die because we tried to be immersive and hide things in the world."
The FPS carnage isn't the only way id will keep your attention in Doom Eternal. The game takes place on tons of different interdimesional locales, from the fiery depths of hell to the farthest reaches of the Sentinel homeworld and even in the high heavens itself.
According to Stratton, Eternal will consistently blast new content for gamers to annihilate at every turn. We'll see tons of new demons--Doom Eternal actually doubles the demons--and larger-than-life backdrops and setpieces to continually inspire awe and that radical rip and tear motivation the series was built off of.
"Part of adding new demons was reflection on 2016. We saw gamers were facing a bit of fatigue by the end. In Doom Eternal you're going to be facing new stuff all the way through the game. Literally down to the last level you're going to see stuff you haven't seen up to the point, including environments, and the new white heaven area...that's near the very end of the game," Stratton said.
Doom Eternal looks to be 2019's top shooter and launches on November 22, 2019 on PS4, Xbox One, and PC.
Check below for more info about the game:
GAME DESCRIPTION:

Developed by id Software, DOOM® Eternal™ is the direct sequel to DOOM®, winner of The Game Awards' Best Action Game of 2016. Experience the ultimate combination of speed and power as you rip-and-tear your way across dimensions with the next leap in push-forward, first-person combat. Powered by idTech 7 and set to an all-new pulse-pounding soundtrack composed by Mick Gordon, DOOM Eternal puts you in control of the unstoppable DOOM Slayer as you blow apart new and classic demons with powerful weapons in unbelievable and never-before-seen worlds.

As the DOOM Slayer, you return to find Earth has suffered a demonic invasion. Raze Hell and discover the Slayer's origins and his enduring mission to rip and tear...until it is done.

FEATURES:

Slayer Threat Level at Maximum

Gain access to the latest demon-killing tech with the DOOM Slayer's advanced Praetor Suit, including a shoulder-mounted flamethrower and the retractable wrist-mounted DOOM Blade. Upgraded guns and mods, such as the Super Shotgun's new distance-closing Meat Hook attachment, and abilities like the Double Dash make you faster, stronger, and more versatile than ever.

Unholy Trinity

You can't kill demons when you're dead, and you can't stay alive without resources. Take what you need from your enemies: Glory kill for extra health, incinerate for armor, and chainsaw demons to stock up on ammo. These tools are the key to your survival and becoming the ultimate demon-slayer.

A New Class of (Destructible) Demon

Obliterate more demons than ever before, each with unique attacks and abilities. Fan-favorite classics such as the Pain Elemental, Archvile, and Arachnotron make their return, while a horde of totally-new demons join the roster including the DOOM Hunter, Marauder, and the Gladiator. Rip apart your favorite demons to the core with DOOM Eternal's "destructible demons" system and take your power fantasy to new levels.

Demonic Invasion Detected

As the Slayer, allow other players to invade your campaign as demons for a dramatic and unpredictable twist anytime you're playing the campaign. Or be a demon and invade other players' campaigns either by yourself or with someone else to give the Slayer a true taste of Hell.

Enter BATTLEMODE

BATTLEMODE is the new 2 versus 1 multiplayer experience built from the ground up at id Software. A fully-armed DOOM Slayer faces off against two player-controlled demons, duking it out over three rounds of intense first-person combat. More details coming soon!