Stadia Pro will give out one free game a month
Stadia's premium tier will dole out one free game a month, Google says.
Published Jul 18, 2019 5:27 PM CDT
|
Updated Tue, Nov 3 2020 11:48 AM CST
3 minutes & 52 seconds read time
Google likens its premium Stadia Pro subscription to PlayStation Plus or Xbox LIVE Gold, and plans to give out free games every month.
Google's new cloud-streaming Stadia service could change gaming forever, but only if it's done right. Now we have more clarification on what it offers. The service, which beams games wirelessly over the internet directly to Chrome browsers, Chromecasts, and Pixel smartphones, has two options: a free version which requires gamers pay full price for games and buy them separately, and Stadia Pro, a $10 a month option that gives you free games, discounts, and access to Google's high-powered servers for 4K 60FPS gaming.
But Stadia isn't like Xbox Game Pass or PlayStation Now. You don't get access to a buffet of games all at once. No, it's more like a premium add-on than a dedicated all-you-can-play subscription.Stadia Pro will give users a free game every month starting with Destiny 2. The pool of games will grow over time similar to PS Plus or Xbox LIVE Gold, but Pro subscribers still have to buy other games one-by-one.
"To be clear, Stadia Pro is not Netflix for Games like some people have mentioned, a closer comparison would be like Xbox Live Gold or PlayStation Plus," said Stadia Director of Product Andrey Doronichev in a recent Reddit AmA. "The Pro subscribers get 4K/HDR streaming, 5.1 sound, exclusive discounts and access to some free games. Roughly one free game per month give or take. Starting with Destiny 2 (yay!)."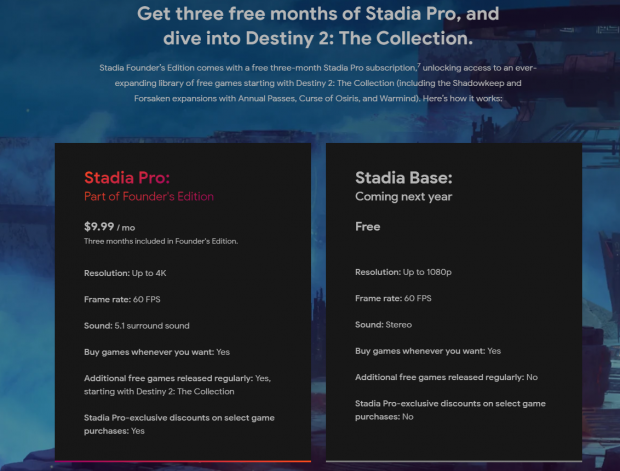 The internet speed requirements aren't too steep, until you actually use Google's diagnostic tool. It often doesn't relay accurate speeds.
"No downloads, no patches, no installs--just grab your controller and jump in."
Of course the free version of Stadia won't include free games or promos. It's just the barebones experience that offers up to 1080p 60FPS gaming.
"No free games on Stadia Base. But hey, Stadia Base gives you free access to the state-of-the-art gaming hardware in our datacenter. You spend your money to buy games you want."
One of the biggest arguments against Stadia is lack of actual game ownership. No one physically owns anything they buy from Stadia, and games could get delisted, changed via forced updates, making ownership and preservation a struggle. Interestingly enough, Doronichev says gamers can download their saves from Stadia at any time, presumably letting them use the data in other PC versions of the game.
So at the very least you'll technically own the saves and investment from the game, but this might not matter if the particular title doesn't support cross-play on multiple platforms. Some games like Destiny 2, however, will let you transfer your saves across all platforms including Stadia.
"The games you buy on Stadia are yours to play. From day one we'll support Takeout, so that you can download your game metadata, including saves if you want to," he said.
Stadia Pro goes live later this year, whereas the free Stadia Base will be delayed into 2020.
Check below for more info:
Stadia Launch Games
Baldur's Gate 3

Borderlands 3

Ghost Recon: Breakpoint

Gylt

Get Packed

The Division 2

The Crew 2

GRID

FM

Power Rangers: Battle for the Grid

Mortal Kombat 11

Farming Simulator 19

The Elder Scrolls Online

Darksiders: Genesis

Trials Rising

Wolfenstein: The New Order

Just Dance

Thumper

Shadow of the Tomb Raider

Dragonball Xenoverse 2

Final Fantasy XV

RAGE 2

Samurai Showdown

Metro Exodus

Assassin's Creed: Odyssey
Stadia is expected to launch "later this year" across 14 countries
Check below for pricing information:
Stadia Pro: $10 a month
Three months included in Founder's Edition.

Part of Founder's Edition

Resolution: Up to 4K

Frame rate: 60 FPS

Sound: 5.1 surround sound

Buy games whenever you want: Yes

Additional free games released regularly: Yes, starting with Destiny 2: The Collection

Stadia Pro-exclusive discounts on select game purchases: Yes

$9.99 / mo
Stadia Base: FREE
Coming next year

Resolution: Up to 1080p

Frame rate: 60 FPS

Sound: Stereo

Buy games whenever you want: Yes

Additional free games released regularly: No

Stadia Pro-exclusive discounts on select game purchases: No

Free
Stadia Founder's Edition $129
First access to Stadia

Chromecast Ultra

Limited Edition Stadia controller

3 months of Stadia Pro access + 3 months of friend access

Full Destiny 2 experience
Related Tags