Google's Stadia changes gaming forever
Google's new Stadia game streaming platform brings instant access to games across all devices, all through Chrome and YouTube videos.
Published
3 minutes & 8 seconds read time
Today Google completely changed the face of gaming forever by announcing Stadia, a new ambitious game streaming platform.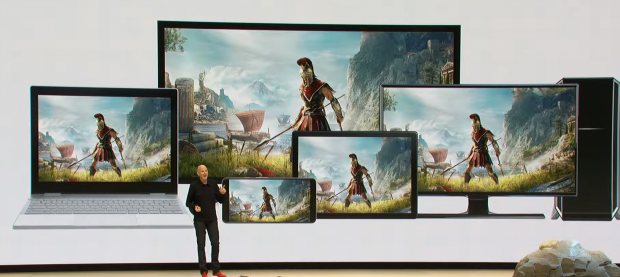 Stadia is Google's new streaming platform, but it's much more than just another service: it's a new evolution that brings an era of accessibility, convenience, and ease-of-use to gaming. Gone are the days of needing high-end consoles and PCs, Google says: using Google's powerful datacenter network, Stadia will stream high-fidelity gaming up to 4K 60FPS to devices like laptops, desktops, tablets, TVs via Chromecast, and mobile phones via cloud technology.
Google promises Stadia will give instant access to its games, all within Chrome or YouTube. Users can launch games directly from YouTube trailers, bringing a new native connectivity to gaming. Trailers on YouTube can have a play now button, which brings the player right into the game in as "quick as five seconds with no download," Google's Phil Harrison said.
"Our goal with Stadia is to reduce the friction of getting excited by a game and playing a game. On Stadia, you just need to click on a YouTube video or link and you can be playing your game instantly," Harrison said.
"The key benefit of our platform is that a single creative vision and a single code base can now be enjoyed instantly across any screen. At launch we'll support being able to play games across desktops, laptops, TVs via Chromecast, tablets, and phones. This new generation of gaming is not a box; the datacenter is your platform, there is no console that limits the creator's ideas, or limits where gamers can play."
Stadia is breaking down the barriers between hardware and devices, too.
Google confirms Stadia will have full cross-platform multiplayer and bring game saves and progression across all devices. This is a massive feat that will completely annihilate competition as long as Google can consistently deliver over time, and offer up big-name games.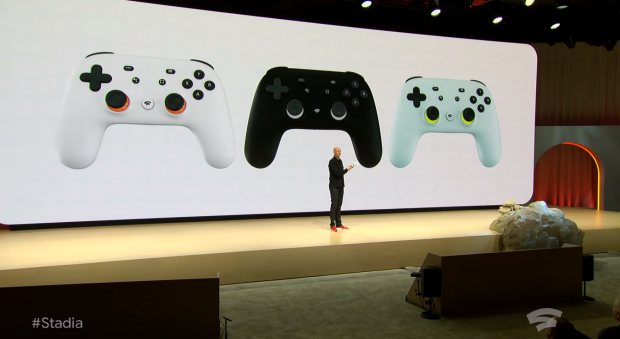 Speaking of hardware, there is no actual console. Google is transcending the limits of console gaming's walled-garden. But Stadia will have a specialized controller that connects to Wi-Fi and directly links up to servers for improved compatibility and integration. The Stadia controller has built-in sharing functionality for screenshots and quick state shares.
Google makes big promises that its Stadia service can deliver blistering in-game performance. Games like Doom Eternal can hit 4K 60FPS with HDR support thanks to Google's potent datacenters, id Software confirms. The platform leverages flexible game engines and toolsets like Unreal, Unity, and Havok for easy integration. Devs can tap Google's huge network to build and host their games, from massively cloud-powered destructible environments and multiplayer games with thousands of players.
Stadia is a game-changer for gamers and could completely upend the current market...if Google can in fact deliver on its promises. The amount of networking power needed to constantly beam games to all these devices is staggering, not to mention latency issues that typically plague online-only experiences.
Each Stadia server blade is powered by a customized AMD GPU with 10.7 TFLOPs and an x86 processor with 16GB of RAM--both of which are specifically designed for the service. Thus armed with hardware, Google can tap its huge network to beam its games remotely across the globe.
Stadia is launching in 2019 across North America and Europe, but no pricing was revealed.
Key features include:
Game where you want, when you want.

Play across multiple devices, including laptops, desktops, and select phones and tablets.

High speed internet connection required

New ways to play through YouTube and beyond.

Go from watching a video to playing a game in seconds, with even more innovative experiences to come for select games.

Up to 4K HDR at 60 FPS.

Enjoy gaming the way you love, with beautiful HDR graphics and smooth frame rates.

4K HDR at 60 FPS are dependent on your bandwidth. Gameplay experience may vary based on quality of internet connection

Play instantly.

No updates, no downloads. Jump right into the game.

Always getting better.

Stadia's cloud based infrastructure evolves to meet the demands of players, developers, and YouTube creators.
Related Tags