Shadowkeep may be Destiny 2's last expansion
Bungie gives hints Shadowkeep could be Destiny 2's last major expansion.
Published Jul 17, 2019 5:07 PM CDT
|
Updated Tue, Nov 3 2020 11:48 AM CST
5 minute read time
Bungie is far from done with Destiny 2. There's still lots of things to do from tweaks and balances to implement and the free-to-play New Light version to the dearth of seasonal updates planned alongside Shadowkeep. But insofar as expansions, there's evidence that Shadowkeep could be Destiny 2's last.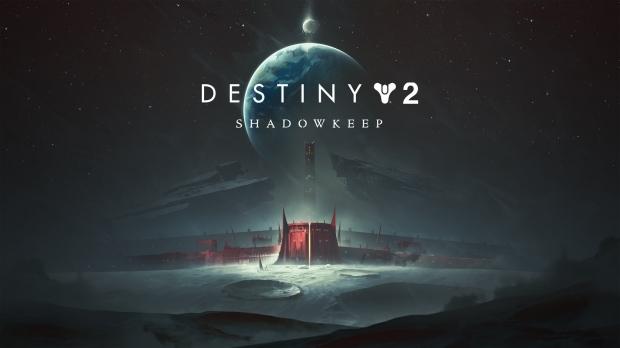 Destiny 2 is getting many changes in September. Shadowkeep, the new moon-based expansion, will drop alongside a free-to-play Destiny 2 version that comes packed with cross-saves. But Shadowkeep won't be a huge paradigm-shifter like Forsaken. In fact it could be the last major expansion the game sees. There's a few reasons for this: the way Bungie talks about Shadowkeep, how the studio is gearing up for more MMO-style RPG progression, and its past cadence of expansion releases.
Bungie says Shadowkeep is a new beginning. It's the inception of a new bold vision for Destiny, and represents the first major content drop free of Activision's meddling.
The vision sees Destiny morph into a more MMORPG-based evolving world. Bungie plans to add in more RPG customization options by adding in old stats and new vanity options. Coupled with cross-saves and more open-ended platform-friendly play via F2P, Bungie is clearly planning for the future.
These changes have far-reaching implications that go beyond Destiny 2, and I think Bungie is using Shadowkeep to lay the foundations for Destiny 3's immediate future. Essentially they're using Destiny 2 as a test platform to see what works and what gamers like, and then add that into Destiny 3 right at launch. This approach will solidify through Shadowkeep's accompanying seasonal pass and should ensure an easy translation between Destiny 2's end and Destiny 3's launch.
"Shadowkeep is the next chapter of that broader universe story. We are going to be peeling back some of these layers over time. The thing we're trying to make sure we do, and we haven't always done our best work with, is feel like the universe is going somewhere," Destiny 2 game director Luke Smith said in a recent ViDoc.
"People want to feel like what they're doing matters. It's heading towards...I don't want to say a resolution, or an ending, because I don't think Destiny is heading towards an ending, but heading somewhere where there's going to be change."
Bungie is investing heavily into Shadowkeep and Destiny's future. There's even rumblings of a new IP in the works, and there's also the matter of NetEase's big $100 million investment into the studio. Whatever Bungie is planning, the new updates for Destiny 2 are just the beginning.
Second up we have some recent comments from Bungie's Mark Noseworthy.
In a recent interview with Polygon, Noseworthy flat out says Destiny 2 can't continue in perpetuity. It has to get a sequel simply because it'll eventually be too big. With all the expansions, Destiny 2 sits at over 100GB on PS4. When Shadowkeep drops in September, Destiny 2 will require 165GB of space.
"Destiny 2 is a huge game. We mean in terms of the scope of the game, that complexity, but also just the amount of space we take on people's hard drives. We can't really just grow the game infinitely, forever," Noseworthy said.
Thirdly, Noseworthy also indicates Shadowkeep will be larger than Rise of Iron and smaller than Forsaken.
"Forsaken was a huge expansion pack for Destiny 2. In terms of what we're able to build this year, it's more much in scope with a Rise of Iron or Rise of Iron Plus," he told Polygon.
For reference, Rise of Iron was Destiny 1's last paid expansion. It's curious Noseworthy would compare it directly to Rise of Iron.
Last but not least, we have Bungie's cadence of post-release content.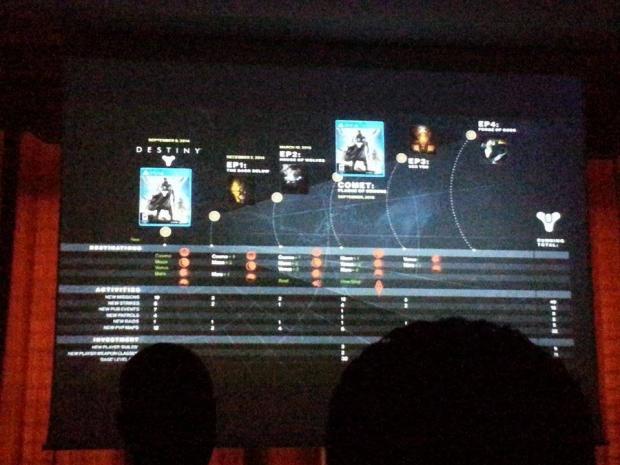 Destiny's expansion roadmap hasn't changed all that much from the original plan in 2015, which included smaller expansions in between huge "Comets", or bigger slices of world-changing content. The original plan saw four episodes, or expansions, with story-based content spread across a multi-year timeline, interspersed in between a Comet. The plan was for every mainline Destiny game would get its own Comet, and so far they have.
This roadmap gives us an idea of where Destiny 2 will go from here.
The original cadence breaks down like this:
Expansion 1 -> Expansion 2 -> COMET -> Expansion 3 -> Expansion 4
Destiny 1 loosely followed this roadmap but missed a fourth expansion:
House of Wolves -> The Dark Below -> THE TAKEN KING -> Rise of Iron
Destiny 2 added seasons that boosted content, weapons, and features in between expansion drops, but overall has followed the same expansion cadence:
Curse of the Osiris -> Warmind -> FORSAKEN -> Shadowkeep
All of these tidbits make me think Shadowkeep will be the last paid expansion for Destiny 2. The DLC will cost $35, which is pretty hefty, and offers a nice wave of story content, a new raid, new weapons and armor, and accompanies a huge update that'll redefine RPG aspects. It's not the end of Destiny 2 updates--the game will still change and shift as Bungie adds new seasonal content and balances--but it's probably the last mainline expansion for the game.
As for Destiny 3...well...that could happen in 2020 alongside next-gen consoles.
Shadowkeep releases September 17, 2019 on PS4, Xbox One and PC via Steam.
Features:

New Missions & Quests

New Destination & Dungeon

New Armor and Gear to Earn

An All New Raid

Season Pass for Season of the Undying*

And more

A NEW CHAPTER.

As the heroes of the last safe city turned their attention to frontiers beyond the protection of the Vanguard, new Nightmares have emerged from the shadows of our long-forgotten Moon.

Called forth by the haunting visions from her tormented past, Eris Morn has returned and unleashed something that once slumbered beneath the lunar surface - a long dormant power even she cannot control.

Return to the Moon. Journey deep into a mysterious enemy citadel. Help Eris slay these nightmares before they reach out beyond the Moon to cast humanity back into an age of darkness.
Related Tags