When Destiny 2's new Shadowkeep expansion drops in September, the game's install size will require 165GB of free space.
Destiny 2's huge new moon-based Shadowkeep DLC kicks off some big changes for Destiny's future. Bungie is breaking down the accessibility barriers by making Destiny free-to-play, bringing it to Steam, and offering cross-save support across all platforms--even Google's new Stadia streaming service. But as the game grows with tons of updates, content drops, and seasonal modes, so too does the file size...and Shadowkeep will push it even higher.
According to the PlayStation Store, Shadowkeep will bump Destiny 2's installation size to "165 GB hard drive storage space as of 09.17.19." With all current expansion and post-release content, Destiny 2's PS4 install size is around 82GB. That means Shadowkeep will double the game's size requirements.
Whether or not the game will actually take up 165GB on your hard drive remains to be seen, and it could be a case of the PS4 sometimes needing double the file size space for game installs.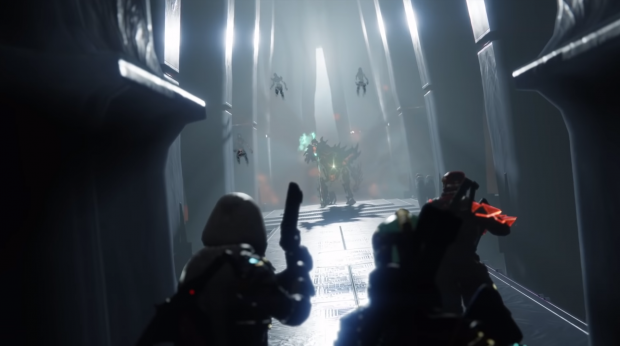 On the other hand, Shadowkeep will be pretty beefy so it's possible the game will grow considerably. It's the first expansion released after Bungie split up with Activision and should offer lots of content. Shadowkeep currently sits at $35 for the base version and includes a new raid, new weapons, strikes, and a fully-fledged moon-based campaign centered around the Hive.
Shadowkeep also introduces Destiny 2's Year 2 seasonal content starting with the Season of the Undying. And it doesn't require any previous DLC to play, unlike Forsaken.
Destiny 2 goes free-to-play on September 17, 2019 alongside the launch of the Shadowkeep expansion. Check below for more info about this huge new DLC:
Features:

New Missions & Quests

New Destination & Dungeon

New Armor and Gear to Earn

An All New Raid

Season Pass for Season of the Undying*

And more

A NEW CHAPTER.

As the heroes of the last safe city turned their attention to frontiers beyond the protection of the Vanguard, new Nightmares have emerged from the shadows of our long-forgotten Moon.

Called forth by the haunting visions from her tormented past, Eris Morn has returned and unleashed something that once slumbered beneath the lunar surface - a long dormant power even she cannot control.

Return to the Moon. Journey deep into a mysterious enemy citadel. Help Eris slay these nightmares before they reach out beyond the Moon to cast humanity back into an age of darkness.