Something sinister lays in wait within the cold, broken surface of Destiny's moon...and it's hungry.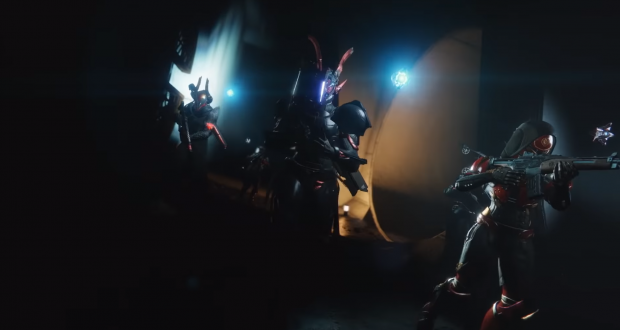 Destiny 2's new Shadowkeep expansion takes us back to the moon for the first time in years. A lot has changed since we last visited Luna. An ancient evil has awakened, a macabre blood-red spire straight out of a Wayne Barlowe painting stands like a monument of woe, and great chasms stretch like infernal maws on the moon's craterous surface. Bungie affirms that Shadowkeep will deliver a haunting and more psychological experience this time around, and I absolutely believe they can pull it off.
I'll never forget the first time I visited the moon in the original Destiny. I was absolutely spellbound by the mix of Hellraiser-style environments with their swinging chains and wicked spires and flowing Giger-esque weirdness. The art direction was incredible (and still is), making me feel like I entered some terrifying sci-horror adventure where there's no hope in surviving. The moon brought a true sense of claustrophobic darkness as it poured out wave after wave of mindless horrors, the absence of all light, a place ruled by shadow and the hideous monsters that roam its hallowed depths. Shadowkeep will bring back those old feelings with even more intensity.
"The moon this time around is something really scary that's playing on your fear in a way that hasn't happened before," said senior artist Thad Steffen. "Before it was 'it's a big giant thing and it's scary.' But now there's some actual psychological elements."
"There's an undertone of threatening psychological horror," said music director Skye Lewin
"This isn't just about the hive any more. It's about something else...something terrifying," design lead Ben Womack said. "We want to tap into what makes guardians afraid, what are their worst fears. The darkness is a lot closer than you realize."
(Continued below)
Read Also: Bungie's ambitious vision brightens Destiny's future
As it turns out, a guardian's worst fear is being haunted by the enemies they've slain. That's the core tenant of Shadowkeep. Infamous Destiny baddies like Ghaul and Crota are being resurrected via some strange interstellar cosmic black magic that preys on guardians' nightmares.
The real psychological elements come from turning Destiny 2's basic shoot-and-kill mechanics on their head. Shadowkeep's big enemies can't actually be slain the same way normal foes can. They don't actually die from being shot enough. Players are used to just using tactical strategy to dish out enough damage and reduce a bosses' lifebar to zero...but nightmares don't die so easily.
"Players think they're ready for this. They've killed Oryx, they've killed Crota. No big deal, right? Well they're going to get there and realize it's a bigger deal than they thought," Womack said.
I've never been more excited to replay Destiny 2 and can't wait to see the supreme weirdness that lay in wait.
Shadowkeep is just the beginning of Bungie's big Activision-free future. The devs have ambitious plans for Destiny, including a free-to-play option and a Steam release as well as an expansive roadmap into the future.
Game director Luke Smith affirms Destiny 2 will go on and on for quite some time.
"Shadowkeep is the next chapter of that broader universe story. We are going to be peeling back some of these layers over time. The thing we're trying to make sure we do, and we haven't always done our best work with, is feel like the universe is going somewhere.

"People want to feel like what they're doing matters. It's heading towards...I don't want to say a resolution, or an ending, because I don't think Destiny is heading towards an ending, but heading somewhere where there's going to be change."
Destiny 2's big new Shadowkeep expansion drops on September 17, 2019 for $35. Check below for more info:
Features:

New Missions & Quests

New Destination & Dungeon

New Armor and Gear to Earn

An All New Raid

Season Pass for Season of the Undying*

And more

A NEW CHAPTER.

As the heroes of the last safe city turned their attention to frontiers beyond the protection of the Vanguard, new Nightmares have emerged from the shadows of our long-forgotten Moon.

Called forth by the haunting visions from her tormented past, Eris Morn has returned and unleashed something that once slumbered beneath the lunar surface - a long dormant power even she cannot control.

Return to the Moon. Journey deep into a mysterious enemy citadel. Help Eris slay these nightmares before they reach out beyond the Moon to cast humanity back into an age of darkness.