Destiny 2 DLC won't migrate over with cross-saves
Destiny 2 saves will carry over to other platforms, but expansion entitlements won't.
Published Jun 7, 2019 10:29 PM CDT
|
Updated Tue, Nov 3 2020 11:48 AM CST
2 minutes & 44 seconds read time
Destiny 2's ambitious new cross-save feature apparently doesn't include DLC entitlements, meaning expansions like Shadowkeep are locked to whichever particular platform you bought it on.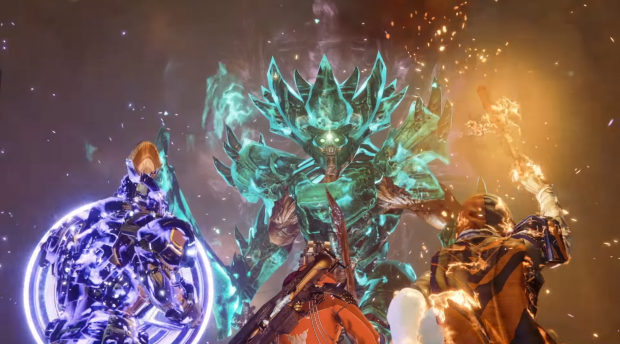 When Destiny 2's new Shadowkeep expansion ships this September, gamers will be able to migrate their guardians across PS4, Xbox One, Steam, and Google's Stadia service at will. The new cross-save feature eliminates the need to start completely from scratch. Your character, gear, milestones, accomplisments, and everything else tied to your Destiny account will be fully transferrable and unified across every platform Destiny 2 is offered on.
But DLC apparently won't be included in this cross-platform program (not that we thought it would).
Bungie's latest Out of the Shadows ViDoc showed a quick teaser of the cross-save setup. Each platform has its own separate DLC entitlements, meaning a single expansion purchase won't carry over to all platforms. Buying Shadowkeep on PC means you can't access Shadowkeep content on PS4, Xbox One, or Stadia without buying it for each individual platform. Shadowkeep's seasonal content access should also be likewise restricted.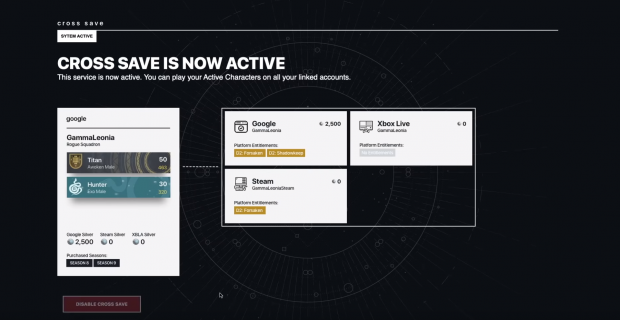 This approach makes sense as a business model. Since Destiny 2 is going free-to-play when Shadowkeep drops, the only way Bungie makes game sales cash is from expansion purchases. It'd be foolish to leave money on the table by giving them away for free.
At the same time, this will ensure Destiny's fractured content model lives on. The original Destiny had an incredibly annoying expansion model that frequently locked non-owners out of daily and weekly activities while also segregating players from their friends. It could be frustrating to know you have to buy and re-buy expansions for different platforms just to keep playing with your friends.
Read Also: Bungie's ambitious vision brightens Destiny's future
Bungie could alleviate this by making an all-encompassing pass that gives you full access to current and future expansions across all platforms. This could be costly, but possibly worth it for those who want to unify their Destiny 2 play on every system available.
What's also interesting is that Silver, Destiny 2's premium monetized currency that can be bought with real money, is locked to each platform. The teaser showed separate Silver values for Stadia, Steam, and Xbox LIVE.
Bear in mind Bungie could make a lot of changes from now until Shadowkeep drops in September. What we've seen now doesn't indicate the final setup...but we also shouldn't expect to get expansions for free.
Destiny 2's big new Shadowkeep expansion drops on September 17, 2019 for $35. Check below for more info:
Features:

New Missions & Quests

New Destination & Dungeon

New Armor and Gear to Earn

An All New Raid

Season Pass for Season of the Undying*

And more

A NEW CHAPTER.

As the heroes of the last safe city turned their attention to frontiers beyond the protection of the Vanguard, new Nightmares have emerged from the shadows of our long-forgotten Moon.

Called forth by the haunting visions from her tormented past, Eris Morn has returned and unleashed something that once slumbered beneath the lunar surface - a long dormant power even she cannot control.

Return to the Moon. Journey deep into a mysterious enemy citadel. Help Eris slay these nightmares before they reach out beyond the Moon to cast humanity back into an age of darkness.
Related Tags