AMD is gearing up for the big unveil of its next-gen Zen 2 CPU architecture which will power both the Ryzen 3000 series CPUs as well as the next-gen EPYC 'Rome' range of CPUs that will do some serious damage to the best Intel can offer.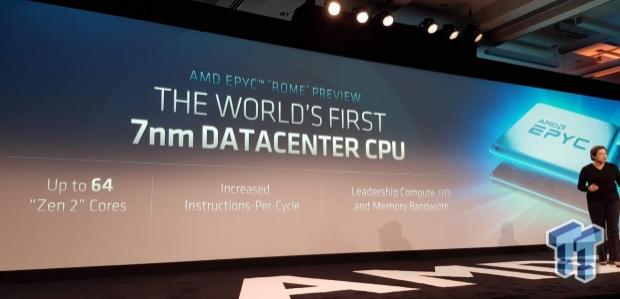 The new Zen 2 chips will be made on the 7nm node including the beast 64C/128T in the new EPYC 'Rome' CPUs but we'll see radically improved IPC performance, more cores and faster CPU clocks, as well as improved power efficiency. There are new leaks now with benchmarks from SiSoft SANDRA which point to some monster performance.
There are two different EPYC 'Rome' CPUs listed here with the first being the higher-end 64C/128T offering while the other CPU is a 32C/64T chip, which points to our previous story about AMD silently killing off its Ryzen Threadripper CPUs make sense. The current Ryzen Threadripper 2990WX comes in with 32C/64T on 14nm, while the new Zen 2 architecture will offer up 32C/64T on 7nm with better power numbers and higher clocks than current 32C/64T chips on 14nm.
The benchmark entry shows an engineering sample referred to as 'ZX1406E2VJUG5_22/14_N' which when decoded, points to a base CPU clock of 1.4GHz and Turbo clock of 2.2GHz. Remember this is an engineering sample so there's always lower clock speeds than what the final chips will offer, but even with its lower CPU clocks it beats the crap out of virtually everything else on the database coming in third for arithmetic scores.
This is a crazy thing to see -- AMD's new EPYC 'Rome' CPU kicking so much ass already and it's not even final silicon. We're looking at it beating some of the highest-end Intel CPUs including the Xeon Platinum 8180M.
AMD's upcoming 32C/64T variant in the EPYC 'Rome' family has higher clocks on this SiSoft SANDRA entry with 1.7/2.4GHz in base and Turbo clocks, respectively.