AMD has just started providing details on its next-gen EPYC processor codenamed 'Rome', which will be the industry's first server processor on the new 7nm node.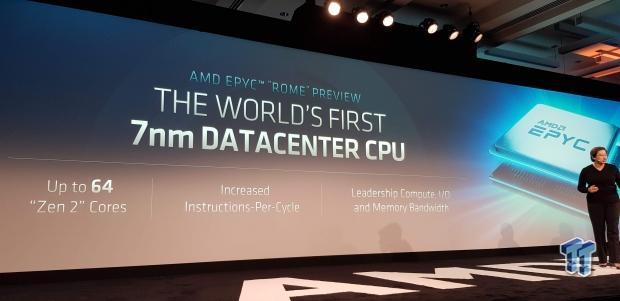 The new EPYC 'Rome' processor will be one of the first to use Zen 2 CPU cores with up to 64C/128T of CPU power at its disposal. It'll also be the first server CPU with PCIe 4.0 connectivity, which is a big deal when it can be matched with the new 7nm-based Radeon Instinct MI60.
EPYC 'Rome' will work on the existing Naples platform, meaning EPYC customers can swap out their 32C/64T first-gen EPYC and throw in a next-gen EPYC 'Rome' processor with up to 64C/128T.
We have 2x performance per socket compared to the previous-gen EPYC processor, and this is an insane leap in performance. When it comes to floating point per socket performance, it's a gigantic 4x leap over the previous generation EPYC processor.
This is all thanks to the new Zen 2 architecture and the shift to 7nm. The best of both worlds driving AMD into the Next Horizon.
In a test during the Next Horizon event, AMD compared EPYC 'Rome' in prototype form against two Intel Xeon Scalable 8180M processors and could not just match, but beat performance in early tests. This is a crazy achievement for AMD, and really sets a new standard for compute performance.