Capcom's game slate thins as it gears up for next-gen
Capcom only plans to release one big game this year, signalling a big ramp-up for next-gen consoles.
Published
4 minute read time
Capcom will only release one big game this year--a huge $40 expansion to Monster Hunter: World--and a few re-releases here and there. This could signal the company is holding back its big guns for next-gen consoles like the PlayStation 5 and Xbox Scarlett.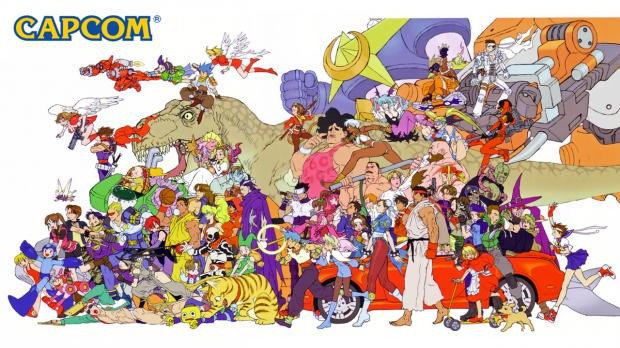 Capcom is one of the most interesting companies out there, and its yearly fiscal reports are always jam-packed full of info. While checking out the data I noticed its new release slate is very light. Last fiscal year Capcom released three huge games that all sold very well: Monster Hunter: World which became the company's best-selling game of all time with 12 million copies, Resident Evil 2 REmake which hit an impressive 4 million units, and Devil May Cry 5 with its "reinvigorating" 2 million sales.
But in the fiscal year ending March 2020, Capcom only has one big game in its pipeline, and it's not even an actual new release but instead the Monster Hunter World: Iceborne expansion.
Why isn't Capcom releasing more games this year? Simple: it could be ramping up to launch its new big AAA games alongside next-gen consoles in 2020. This fiscal year ends in March 2020, well before next-gen systems are expected. Capcom COO and President Haruhiro Tsujimoto recently confirmed that multiple new AAA games are in development, and that they'd be powered by the RE Engine.
This isn't very surprising. Capcom's engine is quite flexible, powerful, and is wholly-owned by the company. But it gets a bit more interesting. Mr. Tsujimoto also confirmed the engine will carry its franchises onto next-gen systems, and RE Engine is built specifically to harness the might of future console hardware.
Linking Mr. Tsujimoto's words with Capcom's release slate and financial predictions leads me to believe it's holding back huge titles for the new console generation. Actually "holding back" is a bit of a misnomer--the better term would be targeting next-gen systems. Remember Capcom put a ton of effort into Monster Hunter: World, RE2 REmake, and Devil May Cry 5, so it's only natural the cycles wind down a bit after a year of strong releases.
At the same time, I'd say Capcom has strong visibility into the new console gen and is using next-gen devkits to craft the future of its games. Capcom was one of the most instrumental companies who helped shape the Nintendo Switch as we know it, and was responsible for pushing Nintendo to boost the Switch's onboard RAM.
We have to delve into some numbers to support our prediction, namely sales, R&D, and other metrics that usually indicate big project ramp-ups.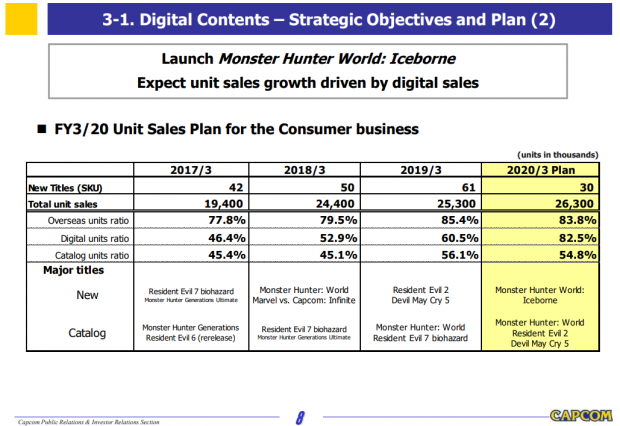 Capcom will ship a lot less games, but earnings are expected to rise thanks to Iceborne, DLC for catalog games, and digital-based re-releases.
Capcom's research and development is set to spike this fiscal year, too. This usually happens when publishers invest heavily into new projects. Capcom's R&D will jump by $26 million this year to 30 billion yen ($270.51 million) in FY2019, up nearly 11% over last year's 27 billion ($243.46 million).
Employee headcount is also rising. Capcom expects to have 2,150 developers by the end of this year, up 118 devs from last year.
Capital expenditures are also set to rise, likely driven by development costs and prepared marketing campaigns for new games. Capex will spike by a huge 58% year-over-year to 3.5 billion yen ($31.55 million), the highest point in the last three years.
Capcom still plans to release new games outside of Iceborne in FY2019. In fact, it expects to release 30 new SKUs compared to last year's 61. So what is the company actually working on?
We don't know for sure, but it does mention re-releases and new DLC as important factors to its yearly plan.
Taking a look at its sales projections shows just how big Iceborne will be and gives us clues what Capcom has planned for this year. The Monster Hunter World expansion is expected to help raise operating income, overall profits, and drive up digital sales to boot.
Despite shipping less games, Capcom expects its operating income to actually grow to a new record high. The huge confidence that Capcom has in Iceborne speaks volumes and I for one am interested to see MAUs, DAUs, and monetization numbers.
Operating income for FY2019 should jump by 10% to 20 billion yen ($180.3 million). Profit is set to jump by 11.5% to 14 billion yen ($126.23 million).
Because it'll ship fewer games, total net sales revenue is expected to dip by 15% YoY to 85 billion yen ($766.4 million compared to last year's strong $901 million).
Iceborne will also help drive up the amount of games sold. Despite a smaller slate, Capcom forecasts 26.3 million total sales of its games in FY2019, up roughly 4%. Digital is expected to make up an astronomical 82.5% of total sales, or 21.6 million.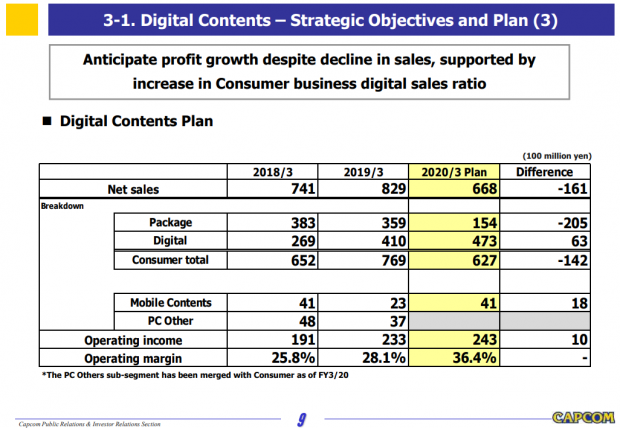 Net sales are down thanks to fewer games, but digital will be the main driver here. This suggests more expansions, paid DLC, mobile games, and of course digital-only re-releases like DMC1 on Switch.
Now that we know all of that, what is Capcom up to for FY2019 (now until March 31, 2020)?
I'd say digital-based re-releases, collections, and remasters. We should see more classics being revamped and sold in retro-sized packages exclusively via digital channels, possibly alongside more Switch ports. DMC1 has been announced for the Switch and confirmed as a digital exclusive.
Here's a quick excerpt from its latest earnings report:
"Moreover, digital download sales have taken off in the US and Europe, and sales have also been increasing in the fast-growing Asian markets in conjunction with the development of network infrastructure. As such, the Company will aim to increase revenues by focusing on digital download sales, which carry less inventory risk and promise higher profitability than one-time physical product sales, both in Japan and overseas."
Capcom is clearly ramping up for its future, which should include more huge remakes like Resident Evil 3 REmake, a new Street Fighter to fold into its budding esports focus, and maybe even a new IP or two.
And of course we'll see plenty more Monster Hunter World. Capcom is far, far from done with their biggest cash crop.
Related Tags