Final Fantasy VII Remake may not release in 2019
Square Enix's recent earnings hint at a release window for the Final Fantasy VII Remake.
Published May 13, 2019 8:40 AM CDT
|
Updated Tue, Nov 3 2020 11:48 AM CST
2 minutes & 53 seconds read time
Although Square Enix plans to show off more Final Fantasy VII: Remake at E3 2019, the first chapter of the trilogy may not release in 2019.
Square Enix's latest earnings report gives visibility into the publisher's upcoming pipeline and may hint at release timings for some of its biggest games. There's usually telltale signs that accompany any big game's launch year, including earnings spikes and sales jumps. Those indicators aren't found in Square Enix's forecasts for this year, but next year.
The publisher expects earnings to moderate in the current fiscal year ending March 31, 2020. Square Enix predicts it'll make 270 billion yen ($2.43 billion) in net sales, with its gaming branch raking in 200 billion yen ($1.8 billion) across the year, slightly down from last year. Overall sales are also expected to drop this fiscal year, which doesn't really align with the launch of a huge game like Final Fantasy VII: Remake. It expects to sell 18.27 million copies this year, down 31% year-over-year. Last year Square Enix sold 26.55 million copies of games thanks to Kingdom Hearts III's strong performance, so admittedly there's a high threshold to break this year...but the FF7 Remake shouldn't have a problem doing so.
Operating income is also expected to drop slightly to 24 billion yen ($216.4 million), primarily weighted down by company-wide eliminations. With the launch of a big game like FF7 Remake, everything including the Digital Entertainments segment should rise.
Instead, the publisher expects huge net sales revenues spikes to occur next fiscal year.
The publisher expects to make up to 400 billion yen ($3.6 billion) in net sales next fiscal year, up a whopping 48% year-over-year, and up to 50 billion yen in operating profit ($450.8 million)
Square Enix on its FY 3/2021 earnings forecast: "Targeting net sales of ¥300‐400 billion and operating income of ¥40‐50 billion. Looking for Digital Entertainment segment to drive sales and income growth."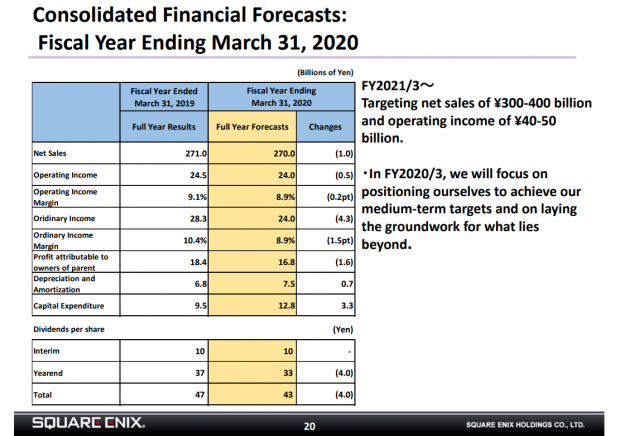 Read Also: Final Fantasy 7 Remake is a trilogy, so how much will it cost?
Here's what Square Enix wrote in its FY2020 forecasts:
Multiple new titles slated for launch, but units sold likely to decline YoY.

Look to generate stable recurring earnings from digital sales of catalogue titles.

Focus on creating new IP that will enable sustainable growth.
At the same time, Wall Street Journal's Takashi Mochizuki says that some games won't actually affect this fiscal year's profits. This would mean a lot of the earnings from games released in late 2019 wouldn't show up until after April 1, 2020.
Some games will launch in the latter half of this year during holiday seasons, and aren't expected to majorly contribute to earnings until the next fiscal year.
This gives some hope that Final Fantasy VII: Remake could still launch in 2019. But there's just one thing that doesn't add up: the sales predictions. Yes, following the massive launch of Kingdom Hearts III last year is tough for any game, but something as big as Final Fantasy 7 should still be able to beat it...especially given Square Enix will also release other new games like Final Fantasy XIV's huge Shadowbringers expansion.
Back in 2017, the publisher said the Remake would launch in the next "2-3 years," and based on the financial forecasts I say it shouldn't release before April 1, 2020...likely in November 2020.
Square Enix should reveal more about its upcoming slate during its E3 2019 presentation on June 10 at 6PM PST/9PM EST.
Related Tags