Wolfenstein: Youngblood comes in an empty box on Switch
Wolfenstein: Youngblood's physical Switch version is digital-only.

Published Sun, Apr 7 2019 3:29 PM CDT
|
Updated Tue, Nov 3 2020 11:48 AM CST
In an effort to save money, Bethesda is shipping Wolfenstein: Youngblood's retail Switch version without a cartridge.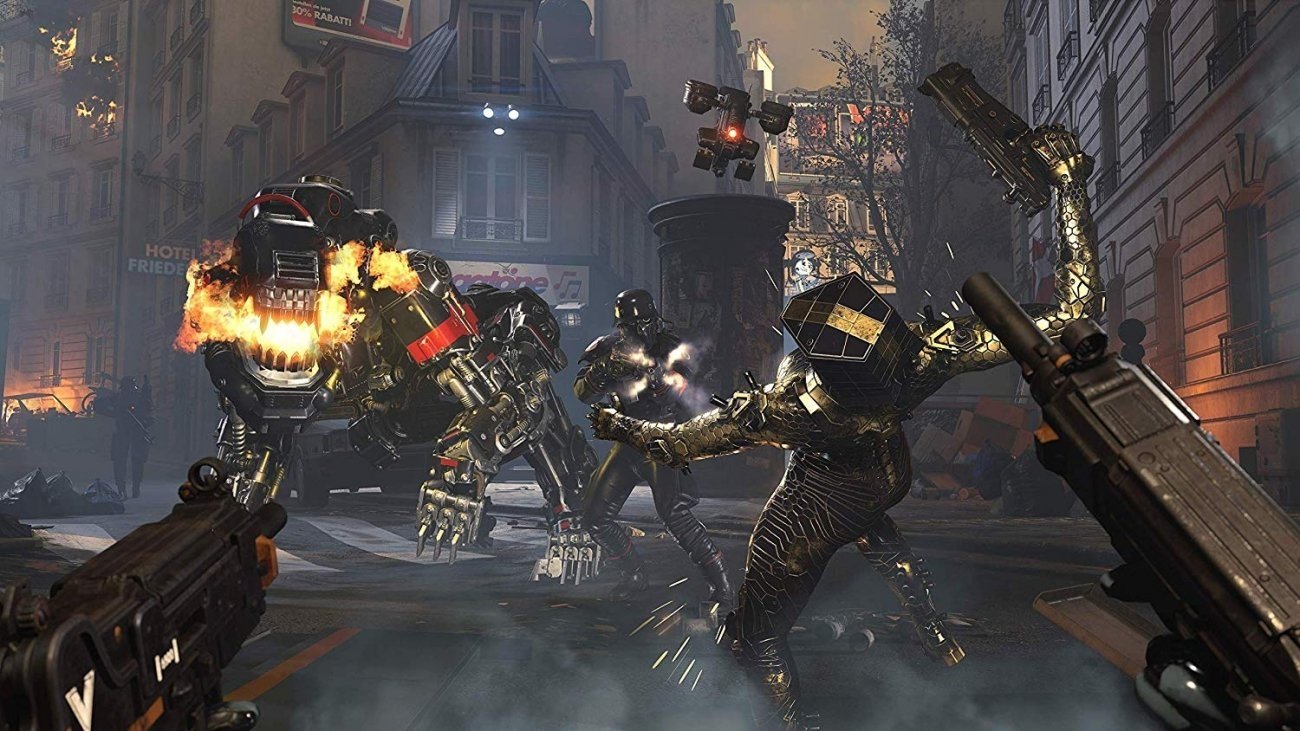 Unlike most console games on the planet, when you go into the store to buy Wolfenstein: Youngblood you'll get an empty box. There's no actual game cartridge included with MachineGames' new co-op centered shooter on Switch. Instead buyers get a download code in a box, PC game style. Amazon confirms the news with a warning: "Contains digital download code. No cartridge included." Even the more expensive $40 deluxe edition comes in an empty box. The PS4 and Xbox One flavors should come with discs, though.
So what gives? Bethesda's been pulling some strange moves lately, and this latest one falls in line with its shift towards adapting all of its core IPs into monetized live games. Wolfenstein: Youngblood is basically a live version of the franchise that'll include online multiplayer and microtransactions.
Nixing cartridges actually does three advantageous things for Bethesda: it ensures you're more likely to stay the online framework with a digital game, it reduces the cost of shipping and manufacturing (Nintendo's Switch carts are expensive), and it makes it so you can't just trade the game in if you don't like it.
I'm betting the box itself will warn gamers the box is empty and the game is download-only, but it's still a weird decision to make. Why even release a physical SKU in the first place? Just launch it on the eShop and be done with it.
I guess this way Bethesda technically gets more reach but I don't think there's any real reason to buy physical if it's literally the same as digital except for a sleeve of artwork and a clear box.
Wolfenstein: Youngblood releases July 26, 2019 on PS4, Xbox One, Switch and PC.
Here's a list of core game features:
Murder, They Wrote: Team up with a friend or play alone with an AI companion in the first modern co-op Wolfenstein adventure. Perform new tag team maneuvers, crank up the voltage with the devastatingly powerful new co-op weapon, the Tesla Gun, and show off your flair with skins and emotes.
Escape from Paris: Wolfenstein: Youngblood features the most open-ended Wolfenstein experience to date. From a new base of operations located deep in the heart of the Paris catacombs, plan how and when to attack and dismantle the Nazi regime.
Sweatin' to the 80s: The wonder years, these are not. Featuring harrowing takes on iconic Parisian landmarks to graffiti-tagged streets, leather-clad Nazis, and an all-new soundtrack inspired by the synth heavy tones of classic 80s action films.
Lock and Load: Wield the latest advancements in power armor tech, weaponry, and armor to stamp out Nazi scum. Level up, explore, and complete missions to unlock new abilities, weapon attachments, gadgets, cosmetics, and more to complement your playstyle.
Related Tags