If Fallout 76 did so well, why add more microtransactions?
What Bethesda says and does doesn't always match up.
Published
6 minute read time
Bethesda's Todd Howard says Fallout 76 did quite well and has a strong playerbase to this day. So why add more microtransactions to the mix? Fallout 76 might've done well with retail sales, but that doesn't mean it's still doing well.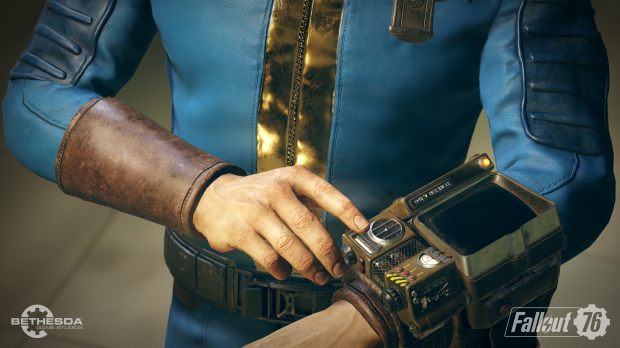 With Fallout 76, Bethesda bit off more than it could chew. In a quest to make more money and join the likes of EA, Activision, and Take-Two with monstrous live revenues, Bethesda released an experimental online-only adaptation of one of its biggest properties. It didn't work very well. Instead of a multiplayer Fallout that brings new freedoms, the game is a tedious web of grindy, frustrating mechanics that strip away some of the best things about the series. And worse: it monetized basic things like outfits and house decorations, which created an artificially elongated grind to unlock them without paying. It bombed with reviews, it bombed with player sentiment, and it seemed to just bomb in general.
Bethesda seems to be happy with the game, though. At the studio's Game Days event at PAX East, studio exec Todd Howard said Fallout 76 did quite well: "We're really excited. The game actually did very, very well we have a huge playerbase of millions of players that're giving us tons of feedback."
Howard also admitted Fallout 76 was quite arduous and took four of its major studios working together to ship. Post-launch, Howard and his team are involved with Fallout 76 to a lesser degree and the Austin branch is upholding live operations. The bulk of Bethesda Game Studios is now working on new games like Starfield, the interstellar space epic RPG, and The Elder Scrolls VI.
"But to be honest, with this one we had a lot of difficulty during development. And sometimes those difficulties do show up on the screen. You never want them to, though," he said
"We grew the studio...we're four different studios now in North America: the one in Rockville, Maryland we've had, the one in Austin and Dallas, Texas, and the one in Montreal, Canada. Fallout 76 was a game that really took a ton of people across those four studios coming together to make it work. We knew the launch was just going to be the beginning."
So here's the 64,000 cap question: if Fallout 76 is doing so well, why is Bethesda planning to monetize it even harder?
The studio confirms it will introduce non-cosmetic microtransactions into Fallout 76. Gamers will soon be able to purchase repair kits in the Atomic Shop, which are essentially shortcut time-savers that let you instantly repair a weapon anytime in the game. Players can buy these kits with atoms, an in-game currency that's earned by playing or buying with real money.
Up until now Bethesda has only monetized cosmetic items in the Atomic Shop. (Well...it does sell generators that supply power to your settlements and homes, so I guess the store was never totally cosmetic.) But this is the first major widespread instance of item-selling that affects gameplay in a meaningful and tangible way.
Some say this is pay-to-win, but I think the better term would be pay-to-avoid. Bethesda is letting you pay extra to avoid the annoying material grinding that permeates through every facet of the game.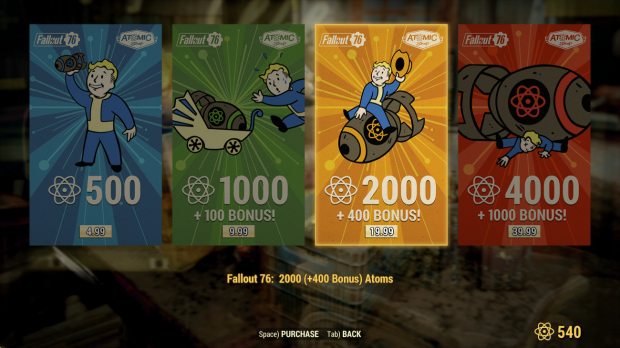 Atoms can be purchased with real money, and are the main reason for Fallout 76's existence. The game is skewed in such a way where gamers are incentivized to play as along as possible, because the longer you play, the more likely you'll pay.
If the game is doing well, if it's sold well, and has a strong playerbase, then why more microtransactions? We predicted over-monetization would do more harm than good and could effectively kill Fallout 76. Why take the risk?
The answer is pretty easy to spot: money.
Fallout 76 could have all the players in the world, but if they're not spending money on microtransactions, Bethesda isn't earning anything outside of full game sales. I have no doubt Fallout 76 sold well in a big mass-market splurge of retail purchases during the holidays. Fallout is an immense property that's recognized worldwide and has tremendous appeal. But sales aren't enough for online-only games like these.
For live titles like Fallout 76, full game sales are just the beginning. These games are designed to make money over time with monetized tidbits that fund post-release content and expansions. To mimic Activision's billions and make ZeniMax Media happy with continuous revenues, Bethesda must create an environment that can slowly generate cash over time like an oil vein delivering black gold.
The real problem Fallout 76 has is that it's not engaging enough. Bethesda tried to monetize the game before it was any fun. Sure, they're trying to fix that by adding updates and changing the game around to players' whims, but it might not be enough. The damage is surely done and I'd be very, very interested to see how many people are playing versus how many of them are paying.
Here are the three main pillars of the engagement cycle and how they must work for a live game to actually do well:
Full game sales - These are both the point of entry to the live service game and a means of making guaranteed sales revenue. We see this in big games from EA, Ubisoft, Take-Two, etc. But once the game is bought, the real work begins. Fallout 76 may be failing in this regard due to the bad press, but we'll never know until figures are released.
Engagement - This is the most important part of any live game. How you engage your playerbase determines if your game lives or dies (or shambles along). Devs and live service teams must continually adapt to many different things, including shaping their worlds around player sentiments, balancing with tweaks and fixes, and rolling out new content that can be consumed. Right now Fallout 76's biggest problem is that players aren't engaged simply because the core experience isn't enjoyable. So Bethesda must adapt and change the core to make it more fun before engagement rolls in--then and only then will it see expanded play.
Monetization - Monetization is extremely important, but it's reliant upon engagement. You can't properly monetize unless you engage. This is the bread and butter for any big studio or games-maker these days: EA, Activision, Blizzard, Ubisoft, Take-Two, Square Enix, even Sony, Microsoft and Nintendo rely on monetizing engagement. But again, most gamers aren't going to spend money on optional cosmetic microtransactions if the core game isn't fun. If it's not fun, then they're not engaged and will quit and play something else, and once they do Fallout 76's monetization potential shrinks a little bit.
That distinction is the most important thing for a live game, and will determine the life or death of any online-only product.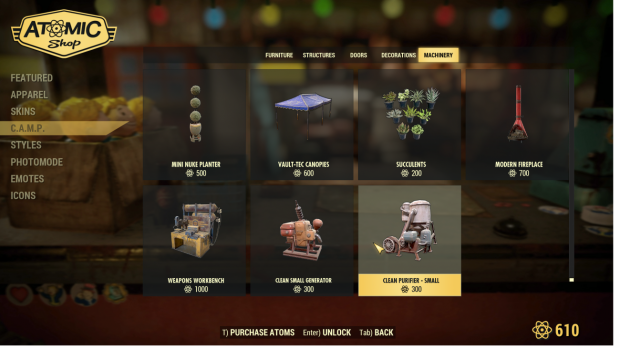 Fallout 76's Atomic Shop was never entirely cosmetic. Users can buy water purifiers, workbenches, and more that all had an affect on gameplay.
Bethesda isn't ready to give up on Fallout 76, though, and rightly so. The studio has put tremendous investment into the project and it took quite a bit of time to create. I don't think they should give up on it yet and they can learn some serious valuable lessons here.
Howard also says Bethesda is constantly looking at Fallout 76's real-time data to try and improve the game. The studio can check what players are doing, why they quit, how long they play, what kinds of items and gear they use--everything you do in the game is relayed to devs who then parse the data to improve the core experience.
But I also worry that Fallout 76 is just the beginning for Bethesda, and that it'll try to adapt most of its key properties into live games even if they obviously don't fit well.
It's actually already beginning. Wolfenstein: Youngblood will be an online co-op game with optional microtransactions. We could see Doom Eternal have some sort of similar monetization via multiplayer, and RAGE 2 should have a component as well.
When it comes to live games, what publishers and developers do matters more than what they say. So in this case more monetization clearly sends a signal to the community that something is amiss, and the studio wants more cash-making opportunities.
Related Tags