Over-monetization will kill Fallout 76
Reports indicate Bethesda may switch on more microtransactions in Fallout 76, but this would likely kill the game.
Published Dec 16, 2018 5:35 PM CST
|
Updated Tue, Nov 3 2020 11:50 AM CST
5 minute read time
Fallout 76's launch has been mired in controversy and poor decisions, but adding more microtransactions this early would be a death sentence.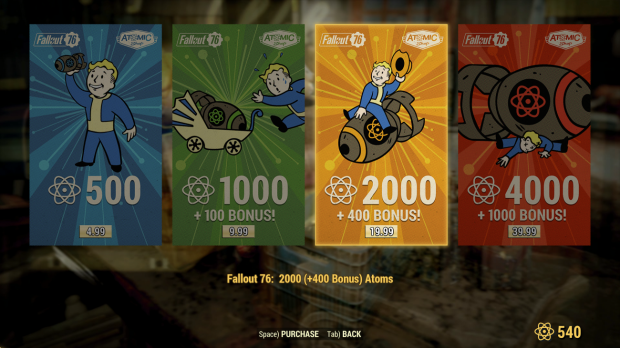 Fallout 76 allows players to buy Atoms, an in-game currency used to unlock cosmetics in the in-game Atomic Shop.
Like all service games, Fallout 76 needs to follow a very particular sequence that revolves around full game sales, engagement, and monetization. This billion-dollar cycle takes the utmost care and dedication to get right, a balancing act that requires diligence and intense risk-management. It's a linear sequence with steps, so one wrong step up the ladder could send the whole thing crashing down. This is what will happen if Bethesda adds more monetization options in an already badly-designed service game.
But who says Fallout 76 will get extra microtransactions? In a recent YongYea video I discovered that Reddit sleuths have uncovered some potential hints in the source code for the game's recent update. The code mentions lunchboxes, which have users concerned Fallout 76 is getting more spending opportunities. Lunchboxes are lootbox-style pails that are monetized in Bethesda's free-to-play Fallout Shelter and contain random rewards like guns, items, and more. It's believed that lunchboxes could make their way into Fallout 76 in a similar fashion, albeit in a more limited cosmetic sense as the game is only monetized via cosmetic microtransactions and not those that actually affect gameplay.
However there's certain lines of code that indicate lunchboxes, which could be bought with real money, may alter gameplay, including carry weight, radiation resistance, damage output, and even in-game physics. In short, the belief is that Bethesda will sell randomized lootbox-style microtransactions that have an affect on gameplay.
Since this would be such a big mistake that could ultimately throw the game's already-shaky engagement model completely off-kilter, I don't think this is likely. I'm highly suspect that Fallout 76 will be further monetized this soon.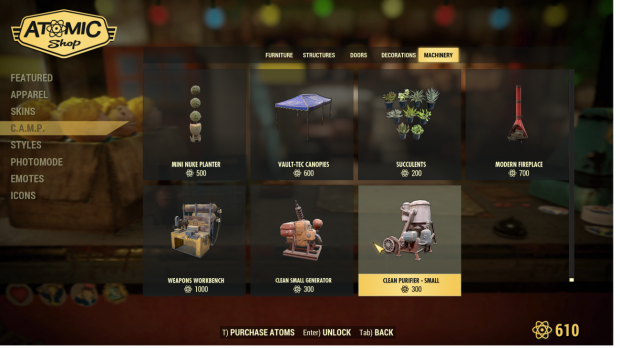 Atomic Shop wares include weapon skins, outfits, hairstyles, icons, tattoos, and even access to building structures.
Over-monetization is always a bad idea for any live game. There's a difference between offering players choice and flexibility in buying options and inundating them with obvious schemes to make more money. The latter is often identified fairly fast by the community and causes lots of PR turmoil (case in point: Battlefront II).
With its survival mechanics and tedious management simulator features, Fallout 76 already feels like it's banking too strongly on engagement, and any sort of further tweaking to incentivize microtransaction purchases would ultimately damage the current playerbase and cause it to dwindle further.
In my extensive Fallout 76 review I outlined many of the reasons why the game fails as a live title. Bethesda simply tried to monetize a game without properly engaging the playerbase first, effectively putting the cart before the horse. The company tried to make the game it wanted to make and infuse weird, misplaced mechanics into an online world wrapped with the Fallout name and monetize it, all without understanding the basic sequence that all live games must follow.
Engagement comes first, and the and only then can it be monetized. Engagement isn't just built with content rollouts or updates, though. Those are additional and ancillary. Proper engagement can only be facilitated when the core gameplay experience is positive and enjoyable to a mass audience. Bethesda learned this lesson the hard way and has been playing catch up since Fallout 76 launched, trying to plug the various holes and put out fires all while rolling out new stuff to do.
Here's a quick explanation on the sequencing of live games:
"It's absolutely imperative that developers consistently hit and maintain all three of these major pillars to continue the cycle of live gaming. Think of them as spokes in a wheel: if one spoke fails, the wheel gets shaky and doesn't turn as fast. If two fail and break then the wheel can simply stop turning. "And all three of these--full game sales, engagement, and monetization--are all intimately connected in a way that's cyclic, mutualistic, but also linear. How and if each step progresses is reliant upon the step that precedes it.

"Full game sales are the gateway, engagement is the core, and monetization is the main driving force that funds new content and then feeds back into full game sales. The more fun and engaging the content is, the more gamers will actually play (engagement) and possibly even pay for in-game items (monetization), and positive press and organic word of mouth will fuel more full game sales."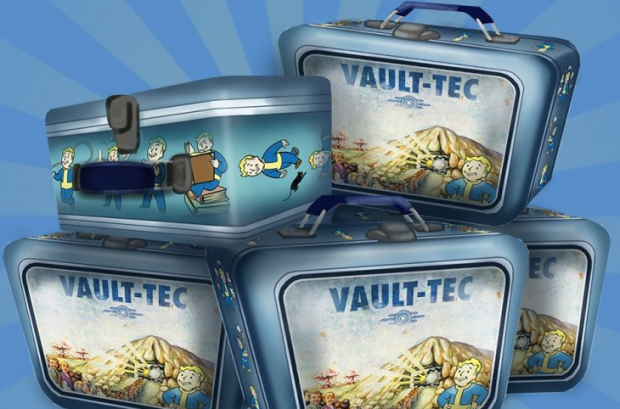 Fallout Shelter sells lunchboxes for real money that unlock various things like outfits, guns, resources, and junk items.
Ultimately my point with this article is this: it's way, way too soon to add more microtransactions or spending opportunities. The basic foundation of the game must be shored up before Bethesda should even think about making more money, or else it'll risk alienating the current playerbase even further and push them towards other live games.
Remember that avoidance is the death knell to any live service game. If people aren't playing Battlefield V, Black Ops 4, or hell even Battlefront II, then they ultimately die out. If the playerbase is ravenously chewing up content and playing millions of matches every month then the games will live on for quite a while, assuming of course it's being monetized properly.
Bethesda has a lot to learn about live games. But it doesn't have to learn these lessons the hard way, through unnecessary toil and failure and potential lost revenues. It only needs to look at its competitors and realize that there's a specific order, a cycle, a method to the monetization madness of live games and incorporate that into their business model.
From where it stands it seems like Bethesda is trying to break the live game mold with something that just doesn't fit, like trying to shove a square block through a circular hole. And over-monetizing Fallout 76 would be a very, very bad move at this point.
So if the lunchboxes aren't additional microtransactions, then what are they? Redditors also posit that they're for new, week-long events coming to Fallout 76. These events are absolutely critical to keep things fresh and keep gamers interested in new things. The lunchboxes could be earned via quests or doled out to players on a daily basis, offering unique buffs to use while taking on massive, hulking scorchbeasts in a survival-style mode or something similar.
But no one really knows what Bethesda is planning but Bethesda. We shouldn't always jump the gun and instantly think more microtransactions are coming, nor should continually berate the publisher. Yes, Fallout 76 is rough, and yes, it needs a lot of work, but with careful planning, implementation, and proper feedback support, the team could make Fallout 76 into what it should be. What it can be.
Related Tags