Samsung Galaxy Fold: foldable smartphone starts at $1980
Samsung makes its Galaxy Fold official, rolls out with 4.6-inch front screen, 7.3-inch when unfolded, 5G, costs $1980.

Published Wed, Feb 20 2019 5:36 PM CST
|
Updated Tue, Nov 3 2020 11:49 AM CST
Samsung has finally made its foldable smartphone official with the announcement of the Galaxy Fold, which the company teases it a "one-of-a-kind luxury device" and it sure is with its technical prowess and massive price.
The new Galaxy Fold smartphone is a foldable smartphone with two displays, the primary display is the flexible display inside of the device which when flexed out is a huge 7.3-inch Infinity Flex Display with a native 2152 x 1536 resolution (4.2:3 aspect ratio), while the secondary display is a 4.6-inch (21:9) panel with a resolution of 1960 x 840. Not too bad at all, as the large 7.3-inch panel will act as a tablet.
Samsung is making the flexible display work with an interesting hinge mechanism that features a bunch of interlocking gears, showing that Samsung is putting some serious engineering effort into the Galaxy Fold.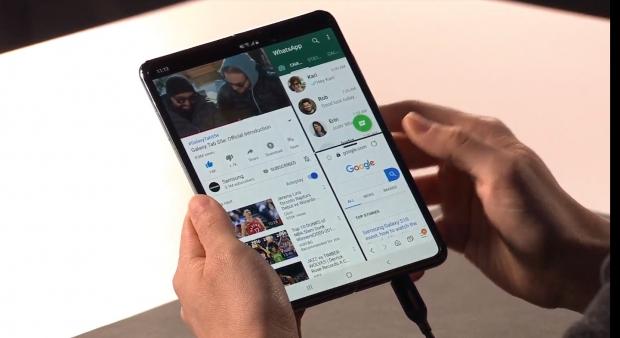 Inside we'll find Qualcomm's super-fast Snapdragon 855 processor in the US and Samsung's in-house Exynos processor in other markets. Qualcomm makes its Snapdragon 855 on the 7nm node while the Exynos chip is on the 8nm node. There's a huge 12GB of LPDDR4 RAM and an equally-as-massive 512GB of internal storage, with Samsung tapping the super-fast eUFS 3.0 standard (Universal Flash Storage).
There are two batteries inside of the Galaxy Fold, which Android will detect as a single battery with a total of 4380mAh.
You're not going to buy a totally new format of smartphone from Samsung in the Galaxy Fold without some great cameras, right? Well, Samsung has your back with not one, not two, but six cameras in total. We have a triple-camera rig on the rear of the phone, dual-front cameras and a single-cover camera.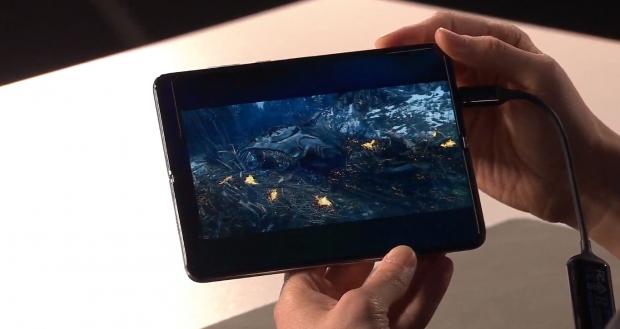 Splitting the cameras up, the three rear cameras consist of a 16-megapixel ultrawide, 12-megapixel wide-angle, and 12-megapixel telephoto. The two front-facing cameras include a 10-megapixel selfie camera joined by an 8-megapixel RGB depth sensor, and then a 10-megapixel selfie camera on the front cover. Crazy amounts of cameras which I'm sure drive the price of the phone up, too.
Samsung will offer its new Galaxy Fold with 4G LTE and 5G connectivity, starting from $1980. It'll be available starting April 26.
Patrick Moorhead, Founder, President and Principal Analyst at Moor Insights & Strategy reached out to me with a few words on Samsung's new Galaxy Fold smartphone: "Simply put, users want more display area to do more with the phone. Remember when smartphone displays were 4"? Now think about the 6" displays and how much more users do with their phones like emails, surfing the web, watching videos and playing games. The experience is just better with a larger, 7.3" display and the use cases presented were compelling".
He continued: "While I don't think the experience will be "perfect", it doesn't have to be, but I do believe the experience will be better than the first "phablets" and any other announced foldable. At $1,980, it super premium, will be a niche product, but I believe it will sell out and become a status symbol. The Fold was icing on the cake showing that Samsung is the company driving new innovations and excitement to the market".
Related Tags