Just Cause 4 sales fail, Square Enix blames other AAA titles
The sales of Just Cause 4 were a complete disapointment, Square Enix decide to blame other AAA title releases.

Published Wed, Feb 20 2019 6:00 AM CST
|
Updated Tue, Nov 3 2020 11:49 AM CST
Square Enix has address the absolute flop of Just Cause 4, admitting that the sales for the title were much less than the company first anticipated.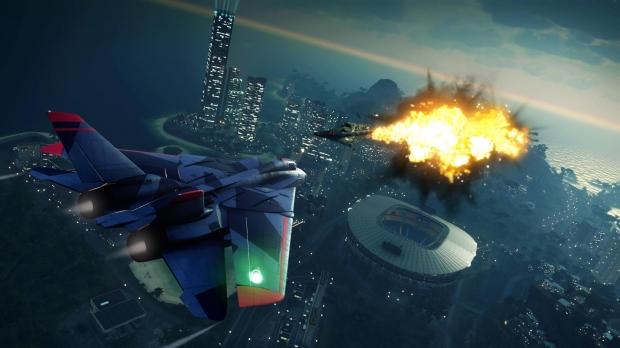 During the Square Enix financial results briefing for Q3 FY2019, the company addressed the sales of some of their staple franchise releases; Shadow of the Tomb Raider and Just Cause 4. While Shadow of the Tomb Raider had an average of positive reviews, much like Just Cause 4 it was still a disappointment sales wise for Square Enix.
A question was posed to Square Enix regarding their medium-term target for FY2020/3 of 40-50 billion yen. The question was in response to the company admitting the disappointment in sales of both the previously mentioned titles, "Do the sales thus far of "Shadow of the Tomb Raider" and "Just Cause 4" change your outlook for additional sales in FY2020/3? If so, does that impact your medium-term target for operating income of 40-50 billion yen in FY2020/3?"
In response to this question, Square Enix said; "While "Shadow of the Tomb Raider" got off to a weak start, we had shipped a total of 4.12 million units as of the end of 3Q, and we look for sales to grow further in FY2020/3. Initial sales of "Just Cause 4" were below our expectations, but we intend to grow sales in FY2020/3 by offering updates and through other initiatives. As such, any adverse impact on the achievement of our medium-term target should be limited."
To add some more fuel to the fire, Square Enix was then asked why they think the sales for both of their titles had very slow starts. The company said that the main reason for the lack in sales was because other AAA titles were released at the same time, and their games didn't offer a novel enough experience for gamers to choose Square Enix titles over other games.
Question: "Why did "Shadow of the Tomb Raider" and "Just Cause 4" get off to a weak start? If initial sales volumes are lower than they traditionally have been, but digital sales are extending the lifetimes of games, don't you need to change the timing of your advertising efforts?"
Answer: "We think the main reason is that we were unable to provide an experience that was novel enough that players would choose to buy them before any of the other numerous major titles on the competitive landscape. Also, while it is true that we are seeing a shift away from sales of boxes to digital downloads, with this many titles competing with one another, initial sales are definitely an important element in increasing user awareness. For that reason, we do need to engage in a certain amount of advertising just ahead of a new title's launch."
Related Tags