Jagex showcase Old School RuneScape in-game statistics
Jagex has showcased the immense popularity of Old School RuneScape in some new statistics released.

Published Feb 19, 2019 5:00 AM CST
|
Updated Tue, Nov 3 2020 11:49 AM CST
Jagex should be more than proud with their efforts they have thrown into Old School RuneScape. The game has taken off once more and has reached a new all-time high popularity wise, and now we have the statistics to prove it.
Since Jagex decided to re-roll the RuneScape servers back to the glory days of 2007, the Old School RuneScape community has been on nothing but an upswing player-base wise. The classic game powered by a democracy of community decisions recently debuted to mobile as well, which resulted in the title catapulting itself through records set back in 2008 for 'most total paid memberships at once'.
Now, Jagex has is currently sitting at new heights with Old School RuneScape and has taken this moment to release some in-game statistics regarding activities players constantly do. According to Jagex's statistics, there are 200,000 quests completed on average per day, 25.1 million fish caught per day, 198.2 million logs chopped per day, 32.2 million weapons and armor forged each day and 2.3 million bosses slain. Each of these activities are achieved by quite a large amount of dedicated players. Old School RuneScape is currently available on the PC, iOS and Android devices. A link to the website for more information can be found here.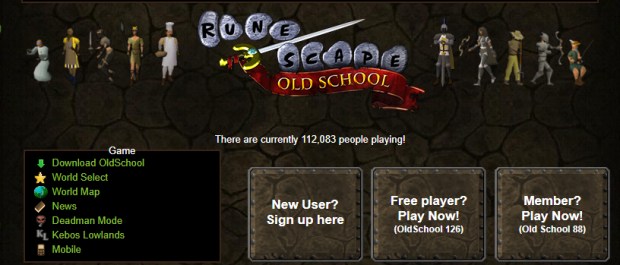 Related Tags