If you have been around the MMO or RPG gaming scene you have most likely played or heard of a classic game called RuneScape. RuneScape is coming back to life and with an ever-growing community, the developer Jagex, is on the cusp of the games official mobile launch. So, I thought I'd give a quick re-introduction to new and returning players.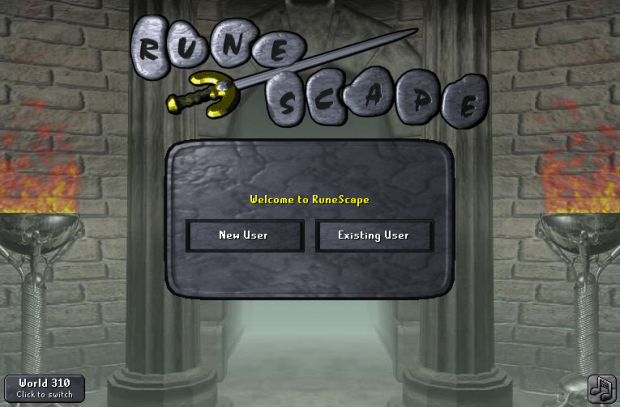 For those players that have never heard about RuneScape before and have no idea what it is, the game is an MMORPG that was originally released back in 2001 by Andrew Gower. RuneScape quickly picked up quite the amount of players, numerous updates were rolled out and the game eventually hit its peak in 2007. More updates were pushed out after RuneScape 2, and after the 'Evolution of Combat' update the game had a detrimental split in the community between players that enjoyed the classic system and others that enjoyed the updated one. This eventually resulted in a legacy server being rolled out in 2013 based on a fan vote receiving over 50,000 signatures.
Gameplay wise, RuneScape is most likely a MMO that you have never seen before, it is very much unique in its own regard. Despite is very poor graphics, it comes with a sense of freedom as it is completely up to each player to determine how they will play the game and what they will complete. There is no classes and everyone has the exact same 23 skills putting each player on an equal playing field. Skill training is very long but cannot be bought with real-world-money, players set their own progression goals and can choose whether they complete them or move onto another goal. RuneScape is about setting your own goals and completing them however fast or as slow as you would like. You are in control.
What is there to do in RuneScape? Well, since everything is completely up to the player there is numerous activities one can enjoy. Players can fight monsters, train up skills, create their own armor, trade items, do quests that give rewards, enter mini-games and even do PvP if they are feeling game enough. Since RuneScape was rolled back to the 2007 age of the game, Jagex implemented a democratic update system to ensure updates that aren't wanted by the community aren't added to the game. Each major update must pass a required 75% approval rating from the community poll system before it is added to the live game, this ensures the that the community is building the game that they want to see in the future.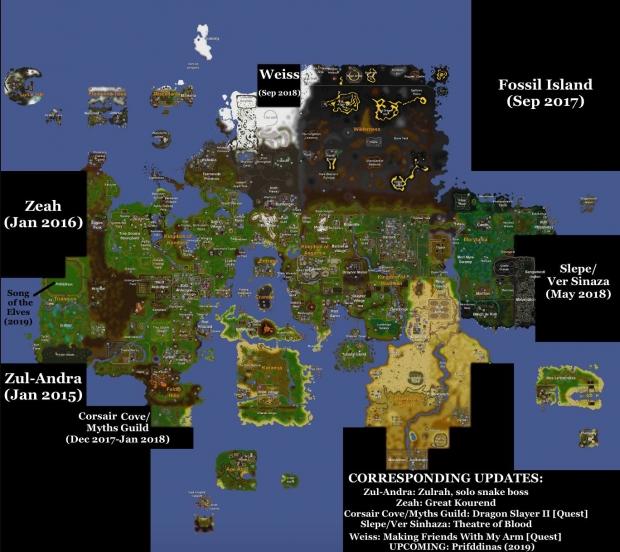 If you are already familiar with RuneScape, there has been much more content added to the game over the 5.5 years of updates. Above you can see the map which showcases the original games land mass and then what Jagex has added/adding to the live game. Jagex has also equipped some of those skills that were mind numbingly boring, such as mining or agility, with mini-games like Blast Mine or Roof Top Agility. This decision has made these skills much more interesting for players and now many more players are inclined to train skills they once weren't considering.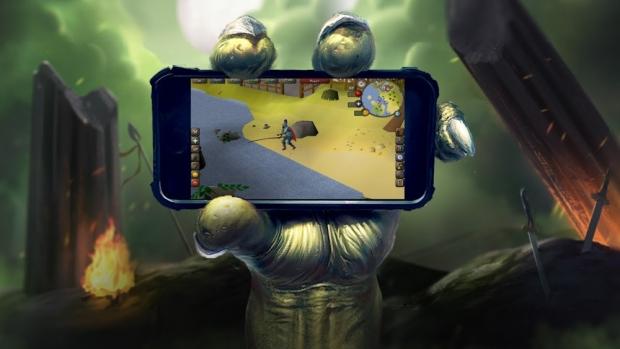 At the moment, there is a peak of anywhere between 60,000-80,000 players, on average the game will float between 50,000-60,000 players. Jagex is also bringing out the mobile edition at the end of this month, which will mean Scapers can really live up to the "no exp" waste. If you are thinking about checking out Old School RuneScape there is free-to-play available, a members option is also available for those that want access to members content. Visit the official Old School RuneScape website here.