Capcom's profit spikes by 108%
Monster Hunter: World's monstrous sales spike Capcom's profits.

Published Tue, Feb 5 2019 3:20 PM CST
|
Updated Tue, Nov 3 2020 11:49 AM CST
Capcom records massive earnings on the backs of strong Monster Hunter: World performance.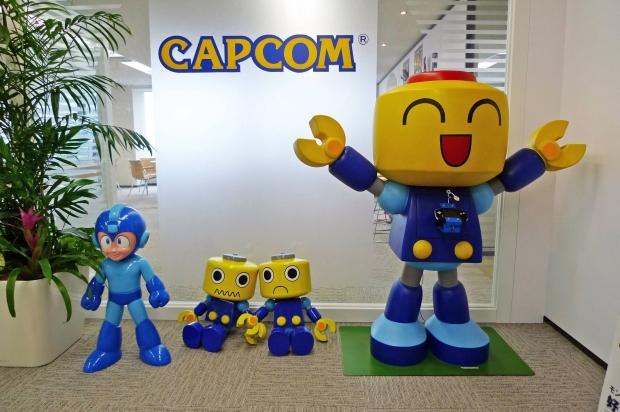 New financial reports show that Japanese games-maker Capcom is doing very, very well. Monster Hunter: World has now sold more than 11 million copies and is a money-making machine for the company, whose Fiscal Q3'18 and nine-month revenues spiked from the MORPG's revenues and catalog sales. First we'll take a look at the nine-month earnings and then follow up with Q3'18.
In the nine-month period from April to December 2018, Capcom's total profits are up a whopping 108% year-over-year to 9.180 billion yen, driven by consistent strong sales and recurring revenues from catalog games and Monster Hunter: World. Operating income, or revenue generated after wages, development costs, and costs of goods sold are deducted, surged by 92% YoY to 13.461 billion yen. Net sales rose nearly 30% and raked in the lion's share of Capcom's gaming segment earnings with 61.270 billion yen.
Digital sales earnings eclipsed physical by nearly two-fold and made up 62% of nine-month net sales. Capcom hopes this trend will continue throughout FY2018 and expects to rake in 86 million more yen from digital sales than last year.
"In this business, the Monster Hunter series served as the driving force in improving the Company's business performance," Capcom wrote in the financial review presentation.
"Feature title Monster Hunter: World (for PlayStation 4 and Xbox One) was a phenomenal success in the previous fiscal year, and continued to maintain popularity through the expansion of its user base, while the strong performance of the Steam version for PC boosted profits."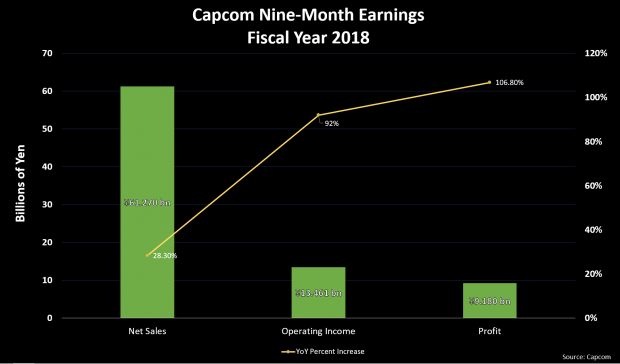 For the third quarter (October 1 to December 31, 2018) Capcom also saw impressive results. The company's net sales for the period were up 55% year-over-year to 47.855 billion yen, driven by software like Monster Hunter: Generations, Mega Man 11, the Onimusha remaster, and of course Monster Hunter: World.
Operating income likewise jumped to a staggering 144% year-over-year to 15.288 billion yen.
Capcom's Q4 period should see a big spike thanks to Resident Evil 2 Remake's success (it sold over 3 million copies in its first week) and Devil May Cry 5, which launches right at the tail-end of its fiscal year.
Related Tags