If Anthem's cosmetics fail, paid expansions are likely
Anthem's cosmetics are the only source of long-term monetization, BioWare affirms, but this could change if the cash doesn't flow.

Published Mon, Jan 21 2019 2:52 PM CST
|
Updated Tue, Nov 3 2020 11:49 AM CST
Outside of deluxe editions at launch, Anthem's cosmetics will be the sole way to pay real money for extra content in the shared-worlds shooter. But this could ultimately change as the game matures.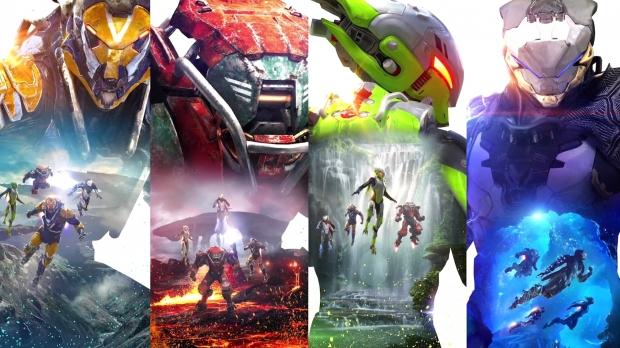 To survive for years and years, service games typically go through many transformations throughout their lifecycles. Games-makers have to be willing to adapt and experiment when things go wrong, when publishers demand more cash, or when more funds are needed to actually upkeep the game and fund new content. Look at Final Fantasy XIV, which added piecemeal microtransactions after previously only being monetized with subscriptions. Or Destiny for that matter, which had separate instances of paid expansions with Eververse mTX layered on top. This could also happen to EA's massive new shared-worlds shooter Anthem.
Although BioWare says Anthem's extra content will be free, bigger expansions could end up costing money at some point in the game's future. This is especially true if the game's cosmetic-only monetization scheme doesn't take off or if engagement and player numbers falter. Battlefront II's controversy has taught EA a lot about changing up live service business models and a pivot would undoubtedly happen if Anthem saw a drop in specific metrics. Anthem represents one of the biggest projects EA has ever invested in: it's a multi-year wholly-owned IP that rivals Destiny in scope and offers the company millions in revenues if handled correctly.
So how would Anthem's paid expansions look?
I'm thinking if things go badly, or change for any reason, Anthem could get new major expansion packs for maybe $15-20 that would include a new Javelin class, new gear, new story content, and a fresh new multiplayer activity to tackle (maybe a raid). The only problem with this approach is possible fracturing of the community, so EA and BioWare would have to handle this just right and avoid any frustrating Destiny-style season pass divisiveness.
But there's also the possibility Anthem will stay the course and include only free DLC content throughout its life, even if things don't go according to plan. EA may be willing to take a potential hit on the long term to use player feedback to continually evolve the game. In short, they could just weather the potential monetization losses and keep their heads down, bulling towards new content for players to consume.
The real point of the article is that the future of any service game is always uncertain. BioWare and EA can promise anything and everything, but they can't predict the future. Anthem could end up being the best game ever made and break records, or it could be a disaster that's utterly suffused with complex micro-management and gear-grinding that pushes players away instead of attracting them.
EA and BioWare likely have contingency plans in place in case things fall off, and have backup plans to boost player engagement. But it's possible that Anthem may go through its own The Taken King-style reboot moment (or a series of them) which would require tons of effort and work from the team, which would ultimately need to cost money.
The whole point in those big TTK expansions is to re-engage the community and bring players back in, signalling that somewhere along the way the devs lost the core magic of feature set that attracted gamers in the first place. This is a risk that any dev or publisher takes when making a live game and it's something they must accept.
If engagement fails, then microtransactions fail, then the main wheelhouse of the entire Anthem business model falls apart. That's typically when macro-monetization (expansions, paid DLC, subscriptions) are used to either supplement, replace, or as temporary measures to reset the engagement cycle.
No one knows how well Anthem will sell or do in the long run, but EA and BioWare are undoubtedly planning for both the best and the worst. Electronic Arts are among the top masters of monetizing live games and I expect everything they've learned will be employed with Anthem's tactical roadmap.
But as the saying goes, even the best laid plans of mice and men oft go awry.
Anthem releases on February 22, 2019 for PS4, Xbox One, and PC.
Related Tags