Sony must to sell 4.8 million more PS4s to hit fiscal target
Sony's stellar PS4 sales need to continue if it wants to hit the lofty 17.5 million fiscal goal.

Published Tue, Jan 8 2019 5:32 PM CST
|
Updated Tue, Nov 3 2020 11:49 AM CST
Sony enjoyed a massive PS4 sales spike this holiday season, but the next quarter will need to see strong consumer adoption to meet the company's projected targets.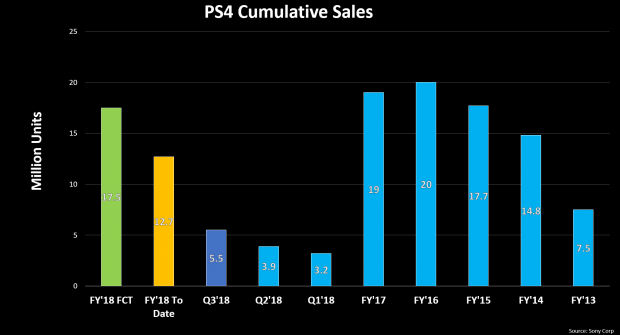 Yesterday Sony confirmed that the PlayStation 4 family of consoles has sold 91.6 million units globally as of December 31, 2018, meaning it managed to move 5.6 million units during its Q3'18 fiscal quarter. The holiday rush is the most important period for many hardware-makers, but for Sony, the three-month period after Black Friday and Christmas will be crucial.
For the total Fiscal Year 2018, Sony expects to sell 17.5 million PS4 consoles, upticked by 500,000 units. Right now it's about 4.8 million short of that goal and Q4 is typically softer for hardware sales. In fact this holiday season was softer than last year's PS4 sales: Sony moved 9 million PS4s in Q3'17 versus the 5.6 million in Q3'18, representing a 38% decrease year-over-year. This is to be expected as the console family winds down near the end of its lifecycle, but we think the PS4 will live alongside the PS5 for years to come.
It'll be interesting to see if Sony can hit its goal or not, and if Q4 sales can help stabilize or at least push the company closer to its 17.5 million PS4 sales target. It's likely the Japanese tech giant will revise its forecast alongside its official Q3'18 results.
Related Tags