CES 2019 - Thermaltake debuts its first RAM modules with stylish flair and liquid-cooled performance.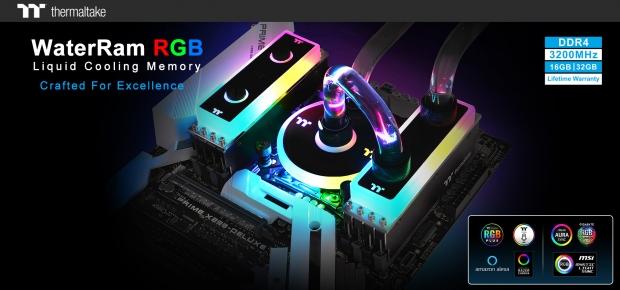 Aimed at enthusiast gamers, Thermaltake's new WaterRam sports liquid-cooling to ensure longer memory life with lower operating temps, all with a splash of color. The memory comes in 8GB modules clocked in at DDR4-3200MHz with tight 16-18-18-38 timings and rated at 1.35V. The kits support Intel XMP 2.0 overclocking profiles and modules come in two 16GB (8GBx2) and 32GB (8GBx4) configurations. The WaterRam's RGB rocks 16.8 million colors with various profiles, and fits neatly into Thermaltake's fleet of radiant-lit hardware across its RGB Plus ecosystem.
The two-way liquid cooling array allows Thermaltake's WaterRam to maintain cool temps as low as 30C, and its higher-end copper water block and aluminum heat sink lets you choose between liquid cooling or conventional cooling.
The pricing is quite high: WaterRam comes in at an astronomical $439 for the 32GB kit. Check below the GIF for specs.
Specifications
P/N CL-W252-CA00SW-A

Package Content 4 x 8 GB Memory Modules

1 x Memory Water Block

4 x Memory Heat Sink Modules

1 x Controller

Memory Specifications Module Type: Unbuffered DIMM

Memory Type: DDR4

Pin Number: 288

Capacity: 8G

Speed: 3200MHz

Tested Latency: 16-18-18-38

Voltage: 1.35 V

Performance Profile: XMP 2.0

Compatibility: Intel X299 , 300 , 200 , 100 Series

LCS Kit Specifications Dimension: 53.8 x 37 x 133.8 mm

Software Interface: USB 2.0 connectors (9 Pin)

System compatibility: Windows 7 / 8 / 8.1 / 10

Rated Voltage: 5V

Rated Current: 0.48 A

Power Input: 2.4 W

Weight: 550 g