Alien: Blackout is a standalone mobile game
But it probably won't have microtransactions, and it should be a tie-in for the next big Alien game.

Published Mon, Jan 7 2019 1:41 PM CST
|
Updated Tue, Nov 3 2020 11:49 AM CST
Remember when I told you not to get too excited about Alien: Blackout because it could be a mobile game? Yeah...it's totally a mobile game. But it could be the beginning of an expanded Alien universe with transmedia tie-ins.
Today Fox announced Alien: Blackout, a new strategy-based mobile game centered around Amanda Ripley's unfolding story. The game isn't a sequel to to Alien: Isolation but instead a standalone game, and isn't a first-person action game: instead developer D3Go has you playing as Ripley and remotely guiding your crew simulation-style through various levels. Get used to seeing the screen below because this is how you'll interact with the game (as well as brief cinematic-style interludes with xenomorph death cam kills).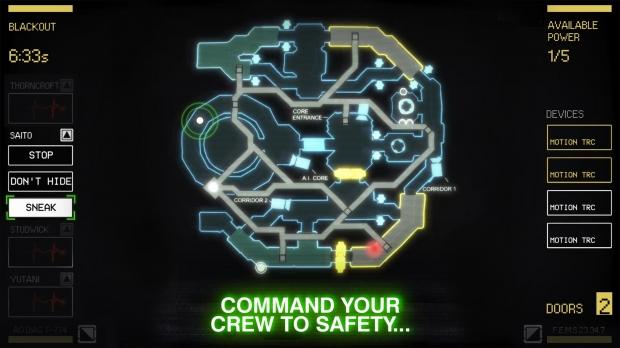 Thankfully Alien: Blackout shouldn't be infused with microtransactions. The listing has it pegged as a "premium mobile game experience" which typically means buy-to-play. I'm also thinking this is just the beginning and that this mobile game will directly tie into the new Alien FPS that's in development at FoxNext. I'm thinking your progress in Blackout will carry over to the FPS game and offer unique events and storylines based on your actions. 3DGo mentions that outcomes are different in Blackout, and maybe we'll see a kind of Dragon Age Keep-style interaction between the mobile game and the new Alien FPS.
In short, this could be the beginning of an expanded universe of transmedia Alien content.
Alien: Blackout will cost $5 on iOS, Android, and Amazon, and will release on January 24, 2019. No mentions of in-app purchases were found on the store listings.
The terror of Alien is brought to life in Alien: Blackout. Try to stay alive while trapped aboard a crippled Weyland-Yutani space station carrying a deadly Xenomorph as it tirelessly hunts you and the crew. Outsmart the perfect hunter by making perilous choices. Players must rely on the damaged controls of the space station or risk sacrificing crew members to avoid deadly contact, permanently altering the outcome of the game.

Survive seven fear-inducing levels by remotely guiding Amanda Ripley's crew through increasingly challenging tasks using only the station's emergency systems. The uncertainty and unpredictability of both the alien and her crew can impose total defeat for Amanda and the entire station.

Alien: Blackout is a unique fear-inducing horror premium mobile game experience that will test the inner nerves of both Alien and horror fans alike, where life can end in an instant.

FEATURES

SURVIVE OR DIE

Using only the space station's limited power supply to operate a holographic map, surveillance cameras, and motion tracker, attempt to remain hidden and protect your crew from the perfect hunter in seven fear-inducing levels.

A NEW CHAPTER IN THE ALIEN FRANCHISE

A new chapter in the Alien franchise following the saga of Amanda Ripley, Ellen Ripley's daughter, between the films Alien and Aliens.

FIRST CLASS ALIEN MOBILE EXPERIENCE

An immersive and captivating Alien experience, perfectly designed for mobile gaming, bringing the Alien story to life.

ENCOUNTER FEAR AGAIN AND AGAIN

Every decision can lead to a different conclusion. Players can test different strategies and theories to outlast the Xenomorph in pursuit of victory!
Related Tags