NVIDIA lost a gigantic $23 billion in market cap in a single 24-hour period on Friday, with NVIDIA stock peaking on October 1 at $289.36 and at the time of writing was down to a much weaker $144.70.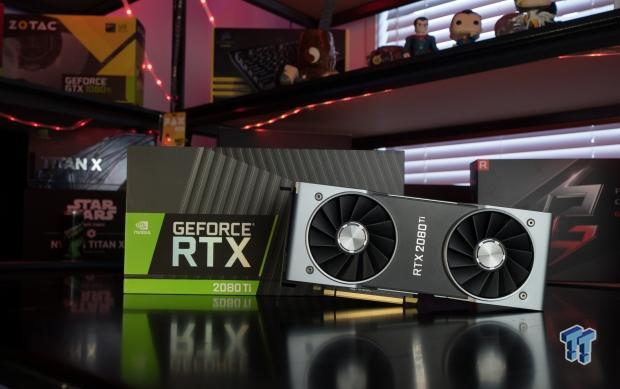 Why? Well, there are many reasons - with some claiming it was the cryptocurrency mining bubble popping, but it seems the various issues with the newly launched Turing-based GeForce RTX series being center focus for NVIDIA right now. NVIDIA stock dropped heavily after the company posted their Q3 2018 earnings report which saw the company missing revenue estimates.
NVIDIA shares reached a 52-week low a couple of days ago when they hit $161.61 but the continued spiral down to $144.70 is worrying, with this now being the worst 24-hour percentage drop in 10 years. The last time this happened was back in July 2008 when NVIDIA shares dropped 30% over disappointing sales forecasts. Jensen Huang, CEO and founder of NVIDIA told MarketWatch in an interview on Thursday afternoon that this was all over a "crypto hangover", where Huang explained: "The crypto hangover lasted longer than we expected and we were surprised by that, but it will pass".
The channel is filled with GeForce GTX 10 series graphics cards and super overpriced GeForce RTX seires graphics cards that have fallen flat with gamers, since there are so many problems with the Turing-based cards right now and the fact that RTX features in games are barely here. Even games with RTX like Battlefield V are plagued with issues and super crappy performance.
CNBC's Jim Cramer has been a critic of NVIDIA this week where he said: "What do you do with it right now? If you didn't own NVIDIA, it's too soon to start buying it. There will be two more quarters of inventory problems. If you do own it, I think you need to recognize that it'll be a long time before this thing can come back. So if you can wait it out, you might want to if only because NVIDIA still remains a great company and eventually they will get it right. Sadly, though, they made a serious misjudgment about the level of demand for their product. And for that, NVIDIA's in the penalty box for a very long time".
Where to from here? Well, it looks as though NVIDIA stock hasn't reached rock bottom just yet... I guess this is the part where I say this is 'RTX off' and to 'Not Just Buy It', right?!