Red Dead Redemption 2 companion app may hint at PC release
Source code found in the RDR companion app adds credence to a PC release.

Published Sun, Oct 28 2018 3:49 PM CDT
|
Updated Tue, Nov 3 2020 11:50 AM CST
Red Dead Redemption 2 is currently only available for consoles, but this will likely change in the near-ish future. Although Rockstar has yet to confirm a PC release, there's been more than a few clues popping up.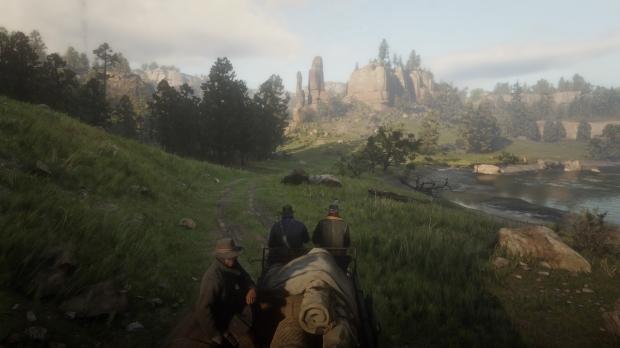 Datamined info gleaned from the official Red Dead Redemption 2 companion app seems to indicate the game will launch on PC (which is to be expected). The app's source code makes direct references to a PC flavor and even has code found in GTA V on PC. There's also evidence the companion app can be used in tandem with PC.
Here's a bit of code as found by GTA Forums user BlackScout.
PARAM_FrameLimit - A framelimiter.

PARAM_DX11Use8BitTargets - Probably due to Xbox One.

PARAM_HDStreamingInFlight - Present in GTA V (PC)

PARAM_Oculus

PARAM_companionAutoConnectIpDurango

PARAM_companionAutoConnectIpOrbis

PARAM_companionAutoConnectIpPC

PARAM_singleThreadedRenderer

PostFX::g_CheckerBoardEnable

CommandIsPcVersion(void) 000000000166A12C

SIGNIN_ANDROID_APP_URL 0000000002A866D0

SIGNIN_IOS_APP_URL 0000000002A9C890

SIGNIN_PC_APP_URL 0000000002A51F58
Red Dead Redemption 2's PC version will likely arrive months after the initial console release. Take-Two Interactive and Rockstar Games like to do this staggered launch as part of a sales strategy--one that's worked quite well for GTA V. Remember that Take-Two makes most of its cash from consoles (especially in-game microtransactions) and it's likely the game's new Red Dead Online mode will continue delivering long-term revenues well after launch.
Essentially the timeline looks like this: 1. Release RDR2 on consoles and reap full game sales digitally and in-store, 2. Launch Red Dead Online service and rake money via microtransactions and continually add new content, 3. Release RDR2 on PC months after initial RDO rollout so the service is up and running while pulling in full game sales as well as microtransactions from PC gamers.
While Red Dead Redemption 2 was built from the ground up for consoles, it's highly likely the game has been optimized heavily for the PC platform too. Consoles take precedence due to a higher install base and more consistent earnings (especially for the holidays) but we can't expect Rockstar's magnum opus to be any less stellar on a platform with the full might of modern GPU technology.
Related Tags