Red Dead Redemption 2 launch trailer shows renegade thievery
Soon robbing trains, holding up banks, and dueling at high noon will be our lives.

Published Thu, Oct 18 2018 6:22 PM CDT
|
Updated Tue, Nov 3 2020 11:50 AM CST
After many long, long years of development Red Dead Redemption 2 is finally on its way. Rockstar celebrates the game's impending release with a new launch trailer that foreshadows an epic cowboy adventure.
Red Dead Redemption 2's story should be one for the ages. Ever since the first reveal trailer in 2016, I had a feeling Rockstar would spin a Western yarn worthy of a Sergio Leone series. Everything up until this point has only reinforced that feeling: RDR2 tells the story of a group of desperate outlaws who are displaced in time and constantly hunted by the long arm of the law. As Arthur Morgan, players will watch first-hand as the Dutch Van Der Linde gang tries to hold on to their savage way of life amid a changing 1899 frontier America. And eventually we'll have to make a choice: die bloodied by the gun as we live, or redeem ourselves to live another day.
"What about loyalty?" "Be loyal to what matters."
The game's official launch trailer touches on this fall of outlaws. Renegade life is becoming harder and harder, and the Van Der Linde gang just needs one more big score before they can leave this life and settle down. But that's always the way with thievery; just one more robbery, just one more hold-up, all the while never knowing which could be your last.
We get some interesting cinematic-style action sequences of bank robberies and big train heists intermingled with horseback gunfights. But that feeling of drama is there and propels viewers to a unique series of conclusions that are hopefully dependent upon the choices we make in-game.
To find out what those conclusions actually are, we have to wait until Red Dead Redemption 2 launches on October 26, 2018 on PS4 and Xbox One.
America, 1899. The end of the Wild West era has begun. After a robbery goes badly wrong in the western town of Blackwater, Arthur Morgan and the Van der Linde gang are forced to flee.

With federal agents and the best bounty hunters in the nation massing on their heels, the gang must rob, steal and fight their way across the rugged heartland of America in order to survive. As deepening internal divisions threaten to tear the gang apart, Arthur must make a choice between his own ideals and loyalty to the gang who raised him.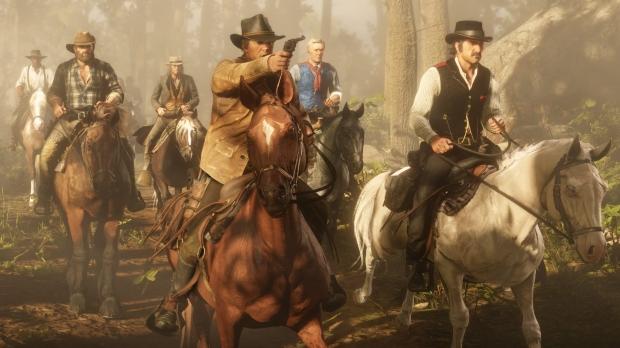 Related Tags