Intel is in the middle of a gigantic misfire in its marketing for the Core i9-9900K, something you can read about here - but what about the mainstream Core i5-9600K? This is going to be a processor that will be long debated, as it's a 6C/6T design that has some great overclocking headroom.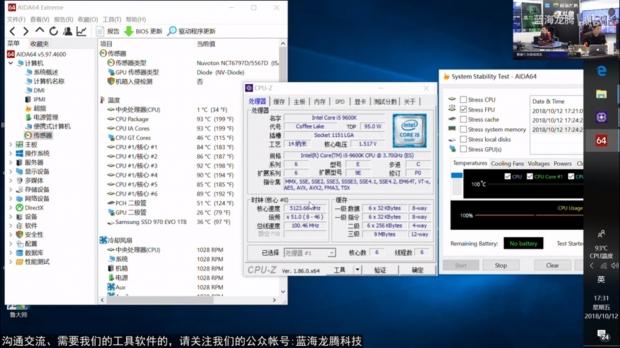 Chinese video streaming site bilibili has both stock and overclocked CPU performance from the upcoming Core i5-9600K under various benchmarks, with some interesting results. The Core i5-9600K is a 6C/6T processor with 9MB of L3 cache, and clock speeds that reach 4.6GHz boost under 1-core CPU loads. Intel's upcoming Core i5-9600K rocks a TDP of 95W and a retail price of $262.
Here's the rest of the CPU clock speeds:
Base: 3.7GHz

1-core: 4.6GHz

2-core: 4.5GHz

4-core: 4.4GHz

6-core: 4.3GHz
For its overclocking adventures, an MSI Z390 MEG Godlike motherboard was used, with 16GB of DDR4 and a higher-end Thermalright Silver Arrow Extreme air cooler was used. The highest OC that was achieved on the Core i5-9600K was 5.2GHz with 1.507V, which is an insane amount power to be going through a CPU. Especially given this is a 9th gen offering, but that's what you get when you're stuck on 14nm again and not 10nm that Intel had hoped for.
Temps were over 90C which is pretty damn insane but remember this overclocked 9600K was using an air-cooler and while the Thermalright Silver Arrow Extreme is damn good, it's not liquid cooling or LN2 so temps are going to be very high, especially with over 1.5V of power coursing through the veins of the 9600K.
Cinebench R15
Core i5-9600K @ Stock: 1034 CB

Core i5-9600K @ 5.2G: 1207 CB
CPU-Z
Core i5-9600K @ Stock: 528.8 Single Thread / 2919.1 Multi-Thread

Core i5-9600K @ 5.2G: 619 Single Thread / 3579.7 Multi-Thread
X264 HD Benchmark
Core i5-9600K @ Stock: 37.55 fps

Core i5-9600K @ 5.2G: 43.76 fps