Google has just unveiled its next-gen Pixel 3 and Pixel XL 3 smartphones, as well as their new Chrome OS-based Pixel Slate tablet. The new Pixel Slate competes with the iPad Pro and Surface Pro, with some neat tricks underneath the hood.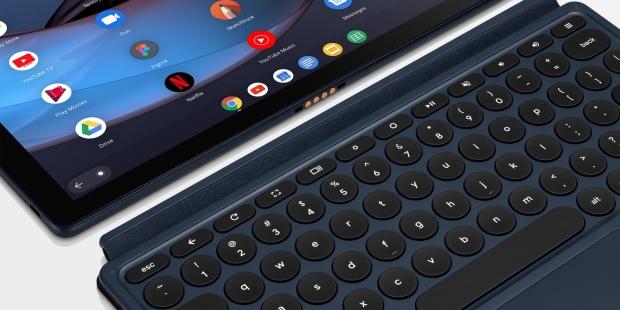 The new Pixel Slate can be configured with five different combinations of CPUs, RAM, and storage. Google is making all models of the Pixel Slate with 8th gen Intel CPUs in Celeron, Core m3, Core i5, and Core i7 models.
Pixel Slate rocks 8-megapixels on both the front and back with the front-facing 12MP camera sporting a wide angle lens for video chat/conferences. There's front-firing stereo speakers, and a large 12.3-inch display with a native resolution of 3000x2000.
Google says the LCD is much faster than a traditional panel where the company is using a "new technology" which saw them use a custom design for, something that delivers much brighter, much more rapid than traditional LCD panels.
There's also a fingerprint sensor built into the power button, another nice touch from Google while some of the accessories are beyond quirky, but have reason to be. One of them is the detachable keyboard that has round, yes round keys instead of square ones.
Google said that they did some user testing and found that after a short learning curve, users typing accuracy would increase. The reason is that the round buttons reduce the amount of mistypes as there's fewer places that you can can overlap.
All models of Google's new Pixel Slate will be available later this year.
Google Pixel Slate pricing:
Intel Celeron, 4GB RAM, 32GB SSD - $599

Intel Celeron, 8GB RAM, 64GB SSD - $699

Intel Core m3, 8GB RAM, 64GB SSD - $799

Intel Core i5, 8GB RAM, 128GB SSD - $999

Intel Core i7, 8GB RAM, 256GB SSD - $1599
Accessories
Pixel Slate Keyboard - $199

Pixelbook Pen - $99