Rumor: Rocksteady making live service Justice League game
What is Rocksteady making? The rumor mill circles back to the old Justice League hearsay.

Published Sun, Sep 30 2018 2:24 AM CDT
|
Updated Tue, Nov 3 2020 11:50 AM CST
Rocksteady's big new project may be centered around not one but many superheroes in DC's Justice League series.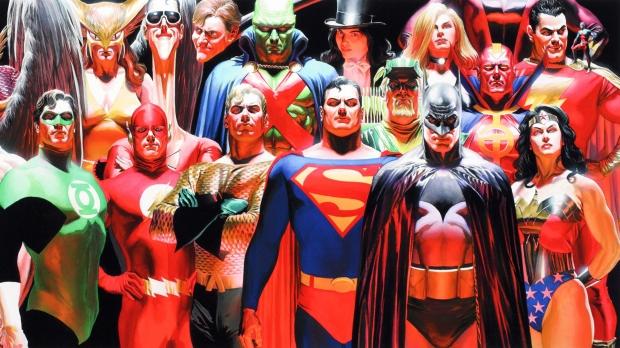 We know Rocksteady, the team responsible for the excellent Batman Arkham series (except for Arkham Knight on PC), is working on a brand new game. Past rumors say Superman is the focus, but nothing's been confirmed. It should be pretty huge, though: devs say the game will make us "lose our minds" once it's revealed.
Now an anonymous 4Chan user with purported inside sources says the game is centered around Justice League. The game will have singleplayer and co-op, the user says, and the story will chronicle the rise of heroes like Batman, Superman, Green Lantern, Wonder Woman and Flash. Live service elements will enable multiplayer action and a selection of massive cities like Gotham and Metropolis, all of which should expand over time via updates/DLC.
The rumor says Rocksteady's Justice League game targets next-gen systems like Sony's PS5 and Microsoft's new Scarlett family of systems. This fits in line with recent job listings that say as much. The listings also strongly hint the new game will be monetized via GaaS-style microtransactions, which points to online-based live service frameworks.
Note: Nothing has been confirmed regarding Rocksteady's new project, and the following is based on one person's claims. The following should be taken with a grain of salt and have not been validated by Rocksteady or WB Games. Some of this info aligns with previous reports and job listings but it could still be completely false.
Here's what the 4Chan user had to say:
>Possible titles

Justice League: Crisis, Justice League: New Crisis, Justice League: Infinite Crisis

Seems they haven't settled on a title yet, but they have a new staple in Crisis. Kind of like how Arkham was to their Batman series.

>Systems

Xbox Scarlett/PS5/PC. You'll hear more details on Xbox's new system later this year with a full reveal early 2019. PS5 will be announced in early 2019 as well.

>Type

Single Player/Co-op. You can switch between characters like in Arkham Knight. The campaign can be played both ways, but there's also a different game mode catered to multiplayer.

Also, it's GaaS, so expect a ton of DLC content. They're gonna have something similar to Hitman with episodic DLC.

>Characters

Superman, Batman, Wonder Woman, Flash(Pretty sure it's Wally), Green Lantern(Hal), Cyborg, Aquaman.

>Cities

Metropolis, Gotham, Keystone(why I said it's probably Wally), more others through DLC.

Each city is a bit bigger than AK, and just as detailed.

>Villains

Main big bad is Starro. As the episodic stuff rolls out you'll see Brainiac and even Darkseid.

>Story

All the heroes are pretty early on in their careers. Batman's still considered an urban legend to anyone outside of Gotham, Superman isn't the "world protector" yet, and WW is still on Themyscira. Aquaman's still in the sea, GL is in space, and Wally isn't even a hero yet.

>Gameplay

From what I hear, it plays just like the Arkham games, except more refined and "opened up". Guessing that's for the heroes that can fly and such.

>DLC

A lot of the DLC will have new cities and new playable characters. Green Arrow, Hawkgirl, Martian Manhunter and probably a lot more.

They're expecting this game to last for years, so I wouldn't be surprised if this game ended up being like Destiny in the sense that it gets updated constantly
Related Tags