Mega Rumor and Trigger Warning: This is all rumor territory, and I'm just reporting from various sources who are providing the relative performance of the GeForce RTX 2080 Ti against the GeForce GTX 1080 Ti.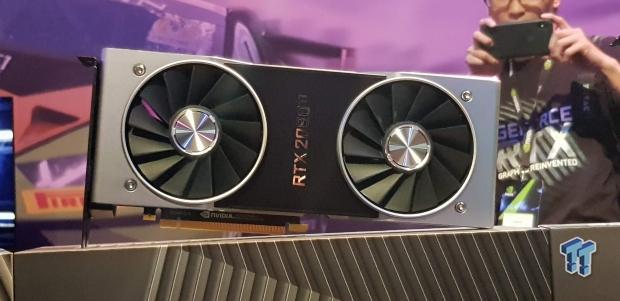 Yesterday I reported about the GeForce RTX 2080 Ti being 35% faster in the 3DMark Time Spy run over the GTX 1080 Ti, but now new information has surfaced which drives the tease-o-meter up to 11/10. 3DCenter.org has compiled a list of relative performance gains over the GTX 1080 Ti from the it-still-doesn't-have-drivers GeForce RTX 2080 Ti.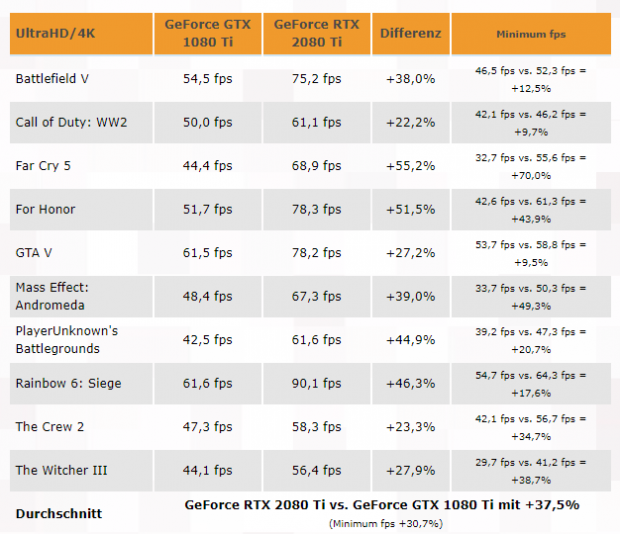 Some of the results are freaking impressive with games like Far Cry 5 expected to receive a huge 55% performance upgrade at 4K, while PUBG will see a large 45% increase. The list includes Call of Duty: WW2, For Honor, GTA V, Mass Effect: Andromeda, Rainbow Six: Victories, The Crew 2, and The Witcher 3.
All of the games have a large upgrade in performance, but this is why I have the huge warning at the top. No one outside of NVIDIA has drivers for the RTX 20 series right now, so take these performance numbers with a grain of salt, a really large collection of salt in fact.
Personally, I do expect a minimum of 30% additional performance in most games from the RTX 2080 Ti so these results are very close to my expectations. I'd love to see a huge 45% increase in PUBG performance, and a huge 38% increase in Battlefield V.
We should expect even more performance when DLSS (Deep Learning Super Sampling) is enabled in DLSS-supported games, driving this performance even higher. NVIDIA's next-gen Turing GPU architecture introduces some truly exciting new features and possibilities, and I think we're only scratching the surface.