Switch may get official SNES, NES controllers
New datamined info points to retro SNES and NES controllers coming to Nintendo Switch.

Published Fri, Aug 31 2018 12:58 PM CDT
|
Updated Tue, Nov 3 2020 11:50 AM CST
Classic retro SNES and NES controller support may be coming to Nintendo's Switch handheld-console hybrid via a new firmware update, likely coinciding with the launch of its Switch Online service.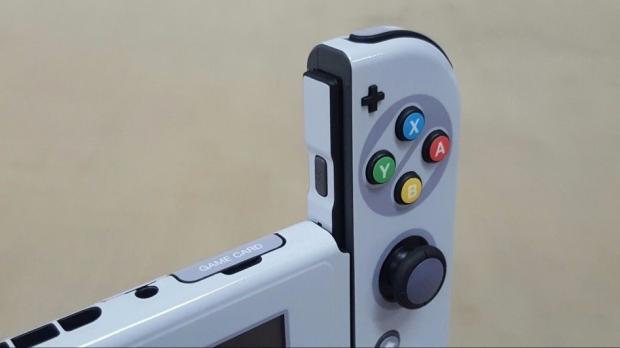 Dataminers have uncovered some interesting tidbits from Switch firmware update 6.0.0, including new SNES and NES controller icons and even the possibility of a new messaging system.

If the info is accurate, it's quite likely Nintendo will release special wireless NES, SNES, Famicom and Super Famicom Switch controllers to not only tap the same nostalgia that revved up NES/SNES Mini sales, but also for its new Switch Online service. Sadly Wiimotes weren't spotted, so we may have to re-buy controllers for use on the Switch...however one of the icons looks suspiciously like a Wii classic console gamepad.
Remember that Nintendo's $20 a year Switch Online service includes access to 20 classic NES games with online play, so these controllers are a natural fit to compliment the service's rollout in late September. Nintendo has confirmed it won't be doing a traditional Virtual Console launch on the Nintendo Switch and will use the free lineup of Switch Online classics as a replacement.
What's particularly interesting is the inclusion of the SNES controller icon. Perhaps Switch Online will have a mix of SNES and NES games? Nintendo will likely release a special Direct video detailing the service's launch and we'll probably see the SNES/NES controller announcement there.
As for pricing...if I had to guess I'd say the controllers will be sold for at least $19.99 a piece (or maybe more). I'd really like some way to connect my SNES Mini controller to the Switch but it may not happen considering it uses the classic Wii hookup.
Switch Online is slated to launch the "second half of September," Nintendo confirms.
Check below for more info on Switch Online:
Free NES Games
(10 confirmed so far)
Soccer

Tennis

Donkey Kong

Mario Bros.

Super Mario Bros.

Super Mario Bros. 3

Balloon Fight

Ice Climber

Dr. Mario

The Legend of Zelda
Pricing
(single account holder plans)
1 Month - $3.99

3 Months - $7.99

12 Months - $19.99
Family membership, 12 Months - $34.99
"A Nintendo Account holder may invite up to seven others to join a family group; all members of the group will have access to Nintendo Switch Online."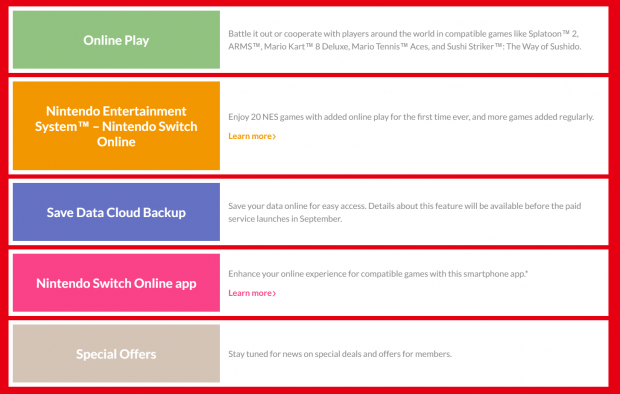 Related Tags