Most recent Super Smash Bros. Ultimate leak confirmed FAKE
Don't believe every Super Smash Bros. Ultimate 'leak' you read, the lastest one is confirmed fake.

Published Fri, Aug 31 2018 12:32 AM CDT
|
Updated Tue, Nov 3 2020 11:50 AM CST
Since the leaks that came about Castlevania's Simon Belmont and Metroids Ridley joining the Super Smash Bros. Ultimate roster, many fans of the series have tried to convince the community of fake leaks. The most recent so called "leak" has been confirmed to be fake, lets dive into it and tear it apart.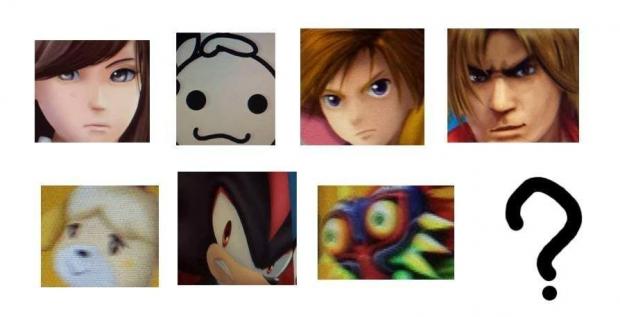 Firstly, everything began from the above image that has been sourced from 4Chan. The image began circling the rounds and was discussed quite heavily, many people pulled apart the renders and called them fake and then some others actually considered the thought that these could be real. The leaker decided to try and backup his/her claims and from the further released images we can say that this leak has lost its traction. The leak suggests renders for the following characters: Gleek Club Chorus Kids (Rhythm Heaven), Isaac (Golden Sun), Ken Masters (Street Fighter), Isabelle (Animal Crossing), Shadow the Hedgehog, Skull Kid (The Legend of Zelda: Majora's Mask), Dixie Kong and Banjo Kazooie.
From the renders that have been released, Super Smash Bros. fans have dissected whether or not these are fake or not. Overall, I can say that judging from the community response to these images, that this leak has been confirmed to be fake. Lets find out why. Starting off with Agnes Oblige from Bravely Default, the leaker has actually gotten the accent mark backwards and it can also be seen that the characters eyes have been borrowed from Palutena. Numerous other problems with the render include: The line in her nose changing, the shine in both of her eyes being mirrored and her textures overall looking much more shoddy when compared to other legitmate fighters.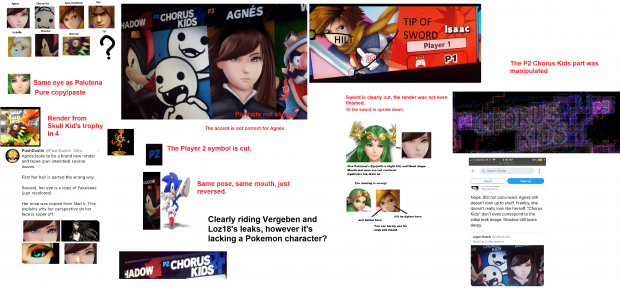 Looking towards Chorus Kids from Rhythm Heaven, we can see that the franchise logo is 'RH', which certainly would make sense considering the first two letters for the franchise are R and H. That isn't the case in other countries though, redditor 'UberMadman' pointed out that the franchise is only called Rhythm Heaven in The United States, and in other countries such as Europe and Japan the franchise is called Rhythm Paradies and Rhythm Tengoku respectively. Jumping towards Shadow the Hedgehog, we can see that from proper Shadow renders that his eyes never stretch that far back from his head, and also that his red ring around his eyes are in the wrong spot.
Overall, there is way to many holes to poke through this rumor, clearly the supposed leaker is trying to ride some of the reliable leaks from DasVergeben and Loz18 who were correct about Simon Belmont and also Ridley joining the roster. If you want to dive more into how this leak is fake, I would advise you to head on over to this Smash Bros. Reddit thread. Super Smash Bros. Ultimate is planned for release on December 7th, exclusively on the Nintendo Switch.
Related Tags