Assassin's Creed: Odyssey map shown, 62% bigger than Origins
Ubisoft's latest ancient Greece odyssey gets mapped out in full.

Published Mon, Aug 27 2018 10:11 AM CDT
|
Updated Tue, Nov 3 2020 11:51 AM CST
Set in ancient Greece, Assassin's Creed: Odyssey will have less whole land masses and tons of islands to explore across the Aegean Sea.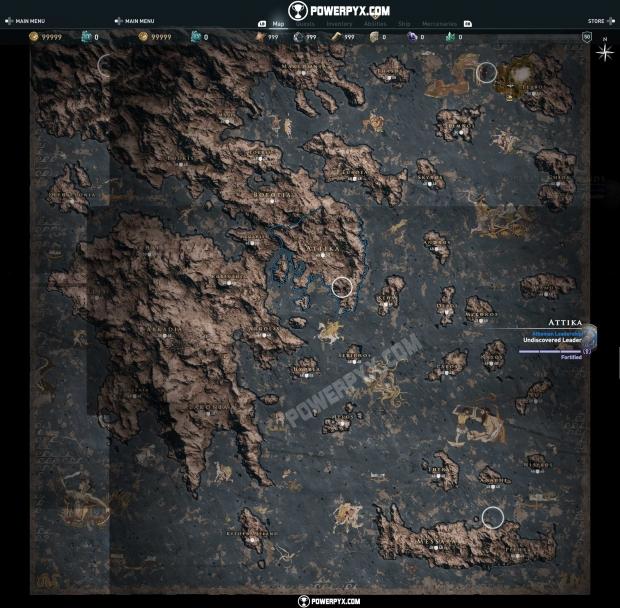 Ubisoft's latest odyssey into the past takes us to Violet-Crowned Athens during the Pelopponesian War, one of the most pivotal point of conflict in recorded human history. Staying true to the region's strengths--tons of rocky, craggy islands spread across the Aegean--AC: Odyssey will have a huge in-game map that's full of legends, myths, and exotic sights to explore. In fact, Odyssey's map is actually 62.5% bigger than its Hellenistic predecessor: according to Powerpyx, who got a hold of a full map, Odyssey's traverse-able world clocks in at 130km squared versus Origins' 80km squared.
A lot of this extra space is taken up by the Thracian and Aegean Seas, and rightly so, as these waterways were both integral to Athens' economy as well as its conflict with the Sparta-allied Peloponnese forces. Ubisoft has already highlighted just how important ship travel and naval combat is to Odyssey--think Odysseus' journey into strange lands meshed with ship-to-ship warfare--and the map shows some interesting points, including a kraken and various legends painted throughout Greece.
One thing to note is that the map doesn't completely include all of Athens' allies during the 5th century BC war. We're missing a few key areas like Troy and Rhodes, but many, many others are included.
Ubisoft has confirmed that Odyssey will seamlessly blend ancient history with the fog of myth. We'll see gorgons (aka medusas) alongside unique creatures and even cults that embrace strange, bizarre gods.
"Ancient Greece, 431BCE, a land rich with myths and legends, in the midst of the Peloponnesian War, fought between Sparta and Athens. This world is ruled by the gods, and shaped by myths and legendary creatures. The creative team behind Assassin's Creed Odyssey recaptured this pivotal moment in history when mythology merged with religion and tradition, shaping Ancient Greek life."
Assassin's Creed: Odyssey releases October 5, 2018 on PS4, Xbox One, and PC.
Related Tags