Atari VCS to ship in Spring 2019, pre-orders open in May
Atari's new VCS system is gearing up, but should still be a ways off.

Published Mon, Apr 30 2018 4:31 PM CDT
|
Updated Tue, Nov 3 2020 11:51 AM CST
Atari releases new pre-order and shipment info on its new Atari VCS gaming/entertainment platform.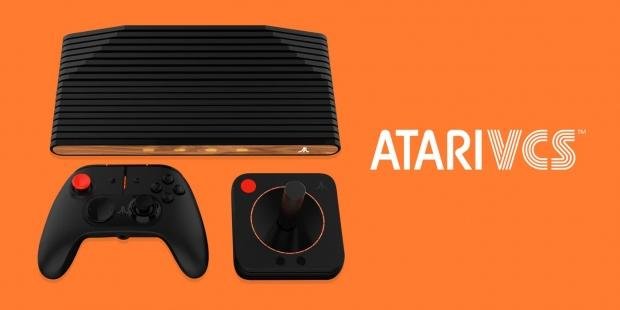 The Atari VCS seems like an iffy bet. Essentially the system aims to do what the Xbox One was supposed to back in 2013, while also entering a market completely dominated by Sony, Microsoft, and Nintendo: the Atari VCS is not only a games console that will come pre-loaded with Atari classics and play Linux-based games, but it's also a PC that can web browse, load apps, and stream music and videos. It's described as a 'connected device' and should pair well with other hardware like phones and even PCs in some capacity. Powered by unspecified AMD Radeon tech the Atari VCS may be as powerful as a higher-end laptop, and aims to do it all while being affordable whilst helping the company enter a new age of digital content with a fully-fledged online storefront ecosystem and dev partnership deals.
As promised Atari has announced VCS pre-orders will go live on May 30 of this year with a planned shipping window of Spring 2019. Pre-orders will be exclusively available on Indiegogo, and the classic retro 70s-style wood console will be part of a special collector's edition. Here's what Atari said about the early pre-order promos:
"The pre-sale is exclusive to Indiegogo and features the time-limited Atari VCS Collector's Edition featuring the special retro-inspired wood-front.

In addition to the Collector's Edition, fans will have the option to pre-order the Atari VCS Onyx, a sleek black version. Early-bird Atari VCS packages will be offered, including the Onyx starting at $199 USD for a limited period of time. Other packages will include the Classic Joystick and Modern Controller.

Initial Atari VCS shipments are planned for Spring 2019. Fans who have signed up for "insider" email alerts at AtariVCS.com before May 24, 2018 will be eligible for special purchase incentives during the pre-sale."
Related Tags