Cyberpunk 2077 on track to release by 2021 with new AAA RPG
CD Projekt RED keeps its initial wide release window for Cyberpunk 2077.
Published Mar 23, 2018 4:22 PM CDT
|
Updated Tue, Nov 3 2020 11:52 AM CST
2 minutes & 14 seconds read time
The team at CD Projekt RED has described Cyberpunk 2077 as the "biggest project we've ever made," and rightly so: the game is a massive investment in technology, manpower, and pretty much every facet of games development. But development seems to be going smoothly and the game should be out in at least three years time.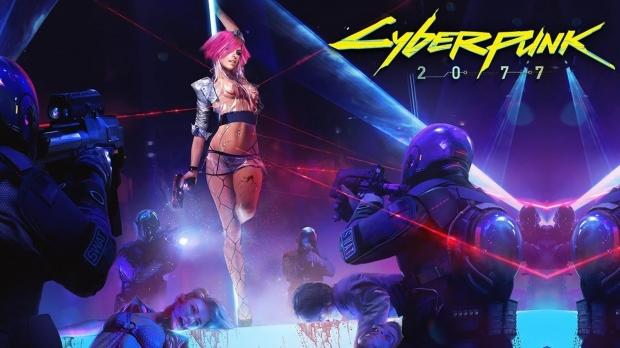 Back in 2016 we reported that CD Projekt RED plans to launch Cyberpunk 2077 and a new unannounced AAA RPG by 2021 as part of its five-year roadmap strategy. Now in its fiscal year 2017 results the company reaffirms this plan, which reinforces the assertions that Cyberpunk 2077's huge world-building is on schedule. In fact CDPR President and CEO Adam Kicinski said the sci-fi RPG hit a major milestone in the FY2017 report: "The development of our next flagship product - Cyberpunk 2077 - is on schedule, and has reached a major production milestone in late 2017."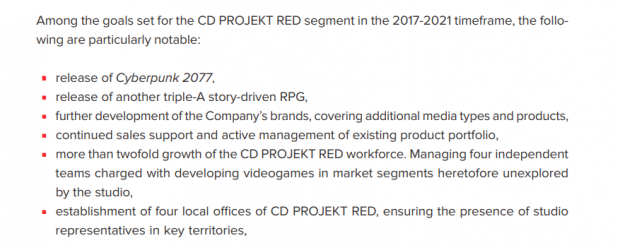 Read Also: Cyberpunk 2077 should have online elements
To help with the near-overwhelming weight of Cyberpunk 2077's living, breathing cities, advanced AI, and unique online player interactions, CDPR acquired a new pool of talent and opened a fresh studio in Wroclaw, Poland to work on the game.
Mr. Kicinski also affirmed that Cyberpunk 2077 will "interface" will next-generation consoles, strongly hinting that the game will be so advanced that it'll look great even on PlayStation 5 or Xbox (Two?) hardware, not to mention the latest fleet of PC video cards.
Given the hint about a major production milestone coupled with recent rumors, Cyberpunk 2077 will likely be showcased at E3 2018 in some form--whether it be a new trailer, gameplay footage, or fresh details across the board.
But what about the unannounced AAA RPG? My guess is that it's Witcher-related, but don't expect Geralt to show up. In the financial documents CD Projekt RED describes itself as a dual-franchise studio that owns the rights to The Witcher and Cyberpunk, so it seems fairly obvious the other game will be related to these two properties.
And I don't see CDPR making two Cyberpunk games at once...
Related Tags