We're getting lots of rumors and leaked decks on AMD's future processors in the last few days, but now we have some more concrete details (I guess???) on AMD's next-gen Threadripper CPUs.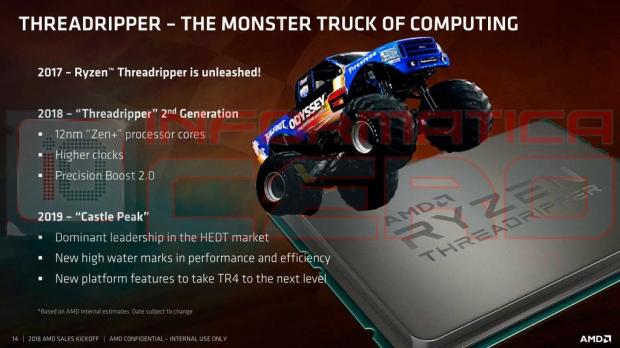 Interestingly, AMD refers to Threadripper as "the monster truck of computing". Onto the slide, where in 2018 we're to expect the second-gen Threadripper CPU which will be made on the new 12nm node and feature Zen+ CPU cores, higher CPU clocks, and Precision Boost 2.0 technology.
Fast forward to 2019 where AMD will unleash the Castle Peak CPU architecture, which AMD says will see them with "dominant leadership in the HEDT market", much more performance and efficiency, and "new platform features" that will "take TR4 to the next level".
What will we see? I'm guessing we'll see Threadripper ramp right up to 32C/64T and 'higher clocks' I'd love to see 4GHz and beyond, and then scale down to 24C/48T. EPYC will most likely shift into the world of 64C/128T (!!!) which will be amazing to see.