Assuming Far Cry 5 sells well, its built-in map editor should be a breeding grounds for engagement.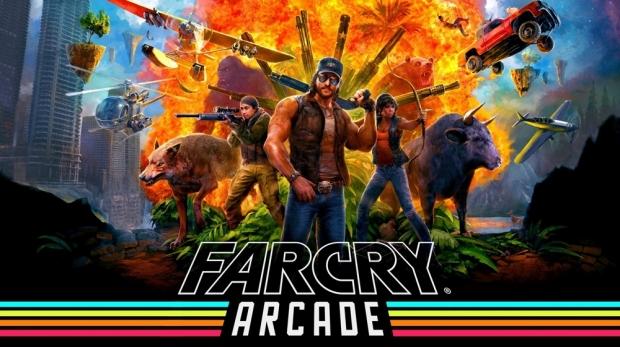 Marrying online elements with campaign-based singleplayer games isn't always easy, but Ubisoft seems to have taken some big cues from its competitors with Far Cry 5. The shooter, which will be powered by live services in the form of co-op, multiplayer, and microtransactions, will also have a mode called Far Cry Arcade that essentially lets players make their own maps and share/play them with friends online.
What's more is the sheer freedom Ubisoft is giving gamers, making it a kind of mod-esque Snapmap-style editor that gives players an interactive multiplayer component to boot. Armed with the map editor, players can create their own playground of chaos for others to enjoy--all of which is instantly accessible any time during the main game.
What also makes it more mod-like is how Ubisoft is opening up its wealth of assets for players to use. Far Cry Arcade will feature 7,000 objects and content from a wealth of the company's wholly-owned franchises including Far Cry 4 (yetis included!), Far Cry Primal (sabertooths and elephants maybe?!), Assassin's Creeds Black Flag and Unity, and even Watch Dogs (maybe we'll get 3D printed guns?).
"The first Far Cry map editor to enable players to create their own solo, co-op, and PvP levels, Far Cry Arcade is a chance for players to crack open the game and use its assets to build their own customized adventures and experiences," reads the Ubisoft blog post. "Far Cry Arcade's goal is to make these custom maps as accessible as the campaign, and one way to accomplish that is to integrate them directly into Hope County - and your character's progression."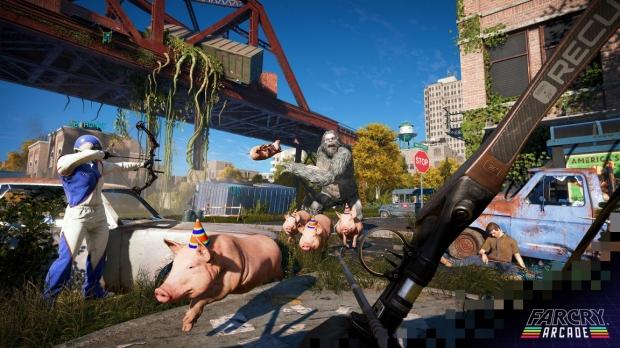 Unlike GTA Online, everything you earn in Far Cry Arcade will transfer to your actual campaign save. This is a really neat touch that will likely massively spark engagement and incentivize players not only to tackle main missions, but also play online in the arcade mode to earn items and such.
"Walk up to an arcade machine in a bar, for example, and you can jump straight into Far Cry Arcade, check out the latest user-created levels (which will be curated by the developers), and start playing. You'll visit these worlds as the same custom deputy you play in the campaign, and any experience points, perks, or money you earn while playing will cross over into the campaign when you're done. (And no, that doesn't mean you can just create a "level" filled with cash and make yourself rich.)"
I'm super keen to see the metrics once Far Cry 5 has been out for a few months, especially in terms of DAUs and MAUs. If handled correctly this could be a big turning point for Ubisoft and teach it how to blend offline singleplayer with online multiplayer in a new, innovative, player-oriented way.
For a refresher on why live services are so important to Ubisoft and the rest of the games industry, check out our report here.
Far Cry 5 releases on March 27, 2018 for PS4, Xbox One, and PC.