CES 2018 - TweakTown had a chance to visit Toshiba at CES 2018 and view their SSD lineup. It was without a doubt one of the most impressive of the whole show. Toshiba had most of their current and upcoming SSD portfolio on full display. Right off the bat, we were drawn to Toshiba's newest SSD the RC100. Based on what we were shown, the RC100 is our choice for the best mobile upgrade of the entire show, because this 2-lane module is the most power efficient NVMe SSD we've seen to date.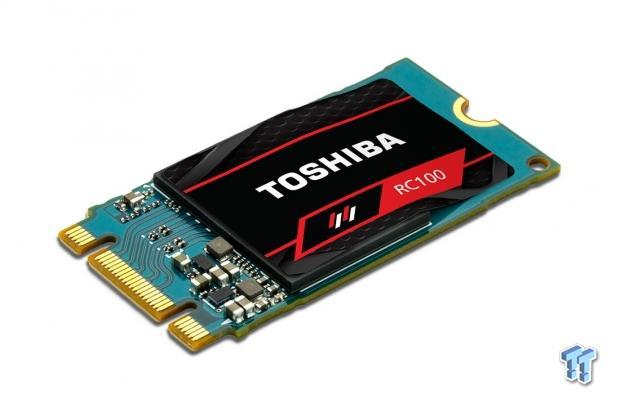 Starting with Toshiba Memory Corporation's own state-of-the-art 64-layer, 3-bit-per-cell TLC (triple-level cell) BiCS FLASH and in-house developed SSD controller in a single package, the RC100 was built to offer consumers a viable alternative to pricier high-end NVMe SSDs. In addition to affordability, RC100 SSDs are designed for efficiency, delivering a power-optimized storage solution particularly sought after by mobile users looking to increase battery life.
The RC100 Series offers excellent performance that bridges the gap between SATA 6 gigabits per second and enthusiast-grade NVMe SSDs, ensuring it sits in the 'sweet spot' for value-oriented users looking to upgrade to the industry's latest interface and reduce cable clutter. The RC100 also integrates Host Memory Buffer (HMB) technology to deliver up to 1,620 megabytes per second and 1,130MB/s in sequential read/write transfer rates and up to 160,000 and 120,000 random read/write IOPS, all without requiring onboard DRAM. Toshiba states that they will offer an HMB driver for Windows 7 and 8.1 users.
RC100 modules are offered in a compact M.2 2242 (22x42mm) form factor and available in 120GB, 240GB and 480GB capacities. Each RC100 SSD is backed by a 3-year warranty to ensure peace of mind. The M.2 x 2242 form factor has been widely adopted and most modern laptops and motherboards have the correct mounting points making an upgrade easy. Toshiba states that the RC100 will be priced similarly to current SATA SSDs. You get the goodness of NVMe on a SATA budget and that sounds mighty tasty to us.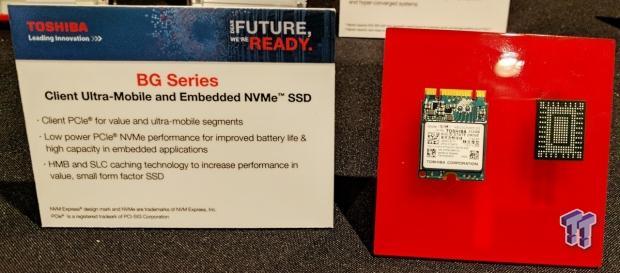 Also on display was Toshiba's OEM version of the RC100, the BG Series. The BG series is designed for ultra-mobile devices that accommodate the ultra-compact M.2 x 2230 form factor and for solder down embedded SSDs. The HMB enabled BG series delivers similar performance to the RC100.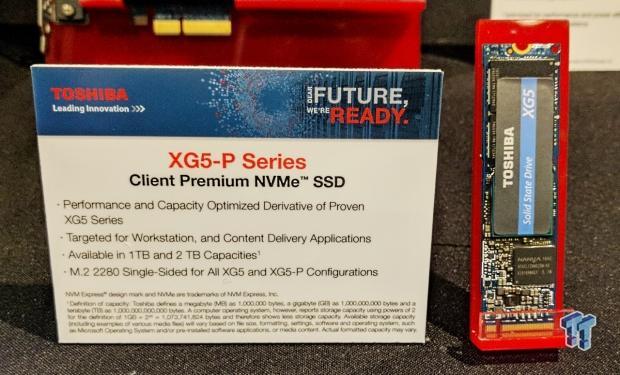 Next up we have the newest version of the OEM-client XG5, the XG5-P. We were told that the XG5-P delivers even better performance than the original XG5 that we reviewed back in July 2017. No performance specifications were given, but if the XG5-P is even faster than the original, it will be a force to be reckoned with in the enthusiast OEM space.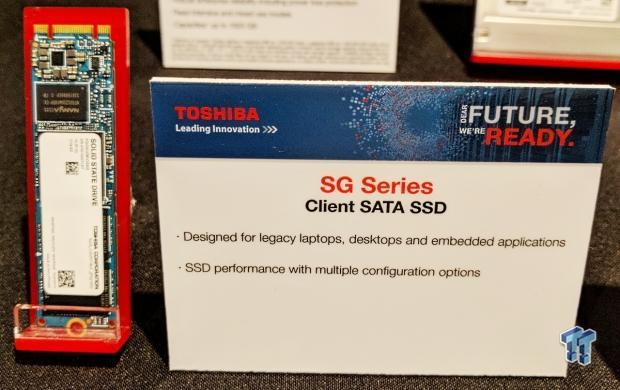 Moving on to something with more moderate performance, we have Toshiba's OEM-client SG Series SATA SSD. The M.2 SATA SG series is designed for legacy laptops, desktops and embedded applications that do not support M.2 NVMe connections.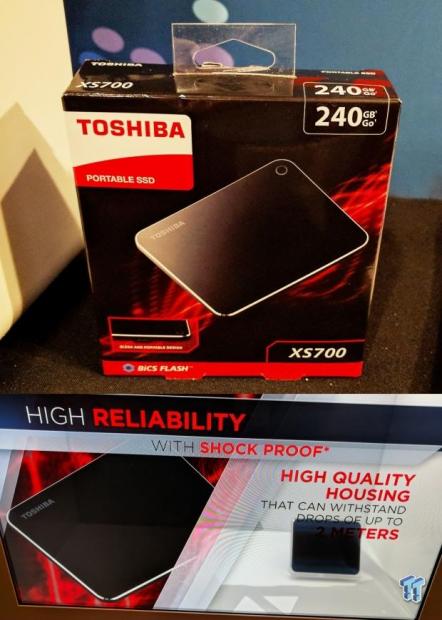 If portability is your need, Toshiba has got you covered there as well. Toshiba's XS700 is a super-fast, super-rugged portable SSD with a high-quality shock resistant housing that can withstand drops of up to 2 meters.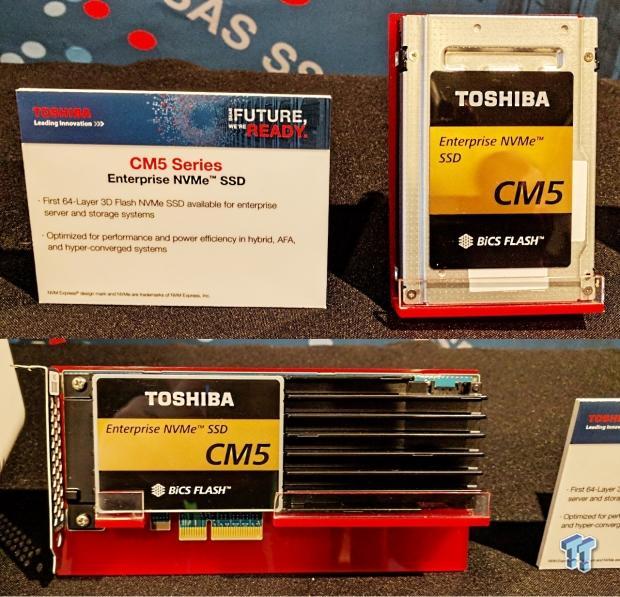 Moving on to the enterprise side, we have Toshiba's newest NVMe SSDs for enterprise, the CM5 Series. The CM5 series is available in both AIC and U.2 form factors. The CM5 Series is the first 64-layer 3D flash NVMe SSD for enterprise server and storage systems. The CM5 series is optimized for performance and power efficiency in hybrid, AFA, and hyper-converged systems.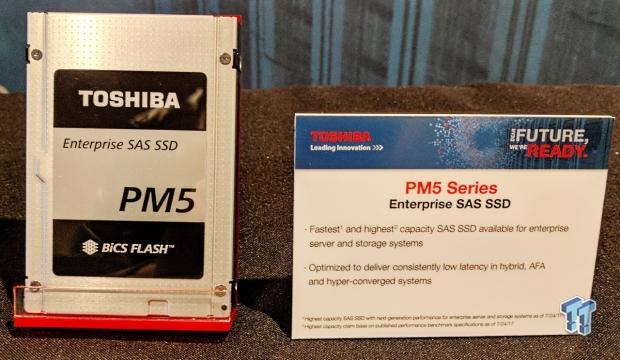 Next up on the enterprise side, we have the mighty PM5 series. Toshiba is the undisputed king of SAS and the PM5 is their flagship model. The PM5 is the fastest and highest capacity SAS SSD available for enterprise server and storage systems. The PM5 is available in capacities of up to 30TB, and is optimized to deliver consistently low latency in hybrid, AFA and hyper-converged systems.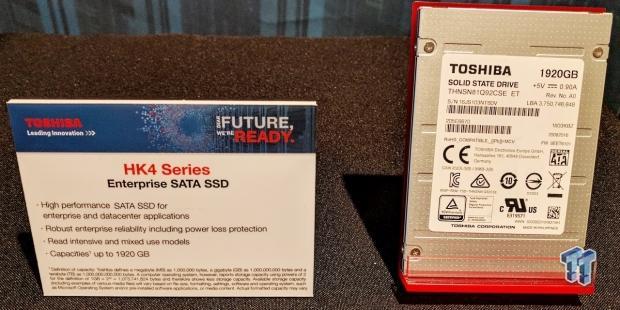 Wrapping up Toshiba's enterprise lineup, we have the venerable HK4 Series enterprise SATA SSD. The HK4 is a high performance, low latency SATA SSD for enterprise and datacenter applications. The robust HK4 delivers enterprise reliability including host power-loss protection. The HK4 is available in multiple configurations for read intensive and mixed-use applications with capacities of up to 1920GB. We are particularly impressed with the HK4's write performance when overprovisioned for mixed use applications.
Toshiba has a potent line-up of consumer, client, and enterprise SSDs that shine brightly above much of the competition. Their lineup was certainly some of the very best we had the pleasure of seeing at CES 2018. The way we see it, 2018 will be another big year for Toshiba's storage division.